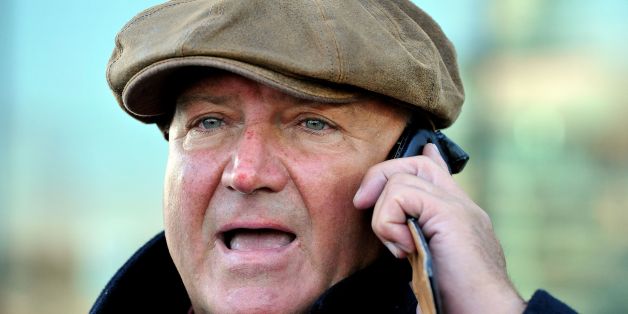 Nick Ansell/PA Wire
From MPs to journalists, economists to trade unionists, people on Twitter came out in tribute to RMT leader Bob Crow, within minutes of the news of his death.
Mr Crow is believed to have suffered a fatal heart attack in the early hours of Tuesday morning.
Those paying tribute included Labour MPs Tom Watson and John McDonnell, and Kevin Maguire, political editor of the Daily Mirror who knew the RMT leader well.
In Bob Crow we have lost one of the finest trade union leaders and socialists our movement has known. I am devastated by this tragic news .

— John McDonnell (@johnmcdonnellMP) March 11, 2014
Death of a fighter. RIP Bob Crow: http://t.co/3gqJB5fF2o

— tom_watson (@tom_watson) March 11, 2014
Bob Crow was a big burly bloke with a great brain, wit, heart of gold and surprisingly soft handshake. Missing him already

— Kevin Maguire (@Kevin_Maguire) March 11, 2014
Many high-profile journalists and entertainment figures said they admired Crow's dedication to his cause.
This is dreadful about the death of Bob Crow - a man full of passion and organisation and gloriously mispronounced words. Sad sad day.

— Mark Steel (@mrmarksteel) March 11, 2014
Bob Crow did, consistently, what he was elected to do - come hell or high-water. #RIP

— Alastair Stewart (@alstewitn) March 11, 2014
To say that Bob Crow's passing was sudden or a shock is a huge understatement. He was only 52, and still in the papers this morning

— Mark Ferguson (@Markfergusonuk) March 11, 2014
Bob Crow refused to accept the mantra of the "race to the bottom" and he was hated for it. Honour his memory: join a trade union

— Owen Jones (@OwenJones84) March 11, 2014
Am in absolute shock that Bob Crow has died. Whatever you think of his tactics he was a hugely successful union leader & ardent anti-fascist

— Tom Copley (@tomcopley) March 11, 2014
I think Bob Crow would appreciate the irony of those who tormented him for taking a holiday now mourning his passing.

— George Eaton (@georgeeaton) March 11, 2014
Wow that's unexpected. RIP Bob Crow. On the plus side he died never having had to meet with Boris. Every cloud.

— Tiernan Douieb (@TiernanDouieb) March 11, 2014
London feels bit less London-y without Bob Crow. Bloody-minded, frustrating, funny, apparently indomitable.

— Joey Jones (@joeyjonessky) March 11, 2014
Many paid tribute to a man dying at the age of 52, while maintaining they despised his politics, and the tube strikes he called.
RIP Bob Crow. I despised his politics but 52 is no age.

— Alexander Chapman (@_archapman) March 11, 2014
Yet it would be gross hypocrisy to pretend I did anything other than to oppose all Crow stood for. His politics, attitude were very damaging

— Louise Mensch (@LouiseMensch) March 11, 2014
Bob Crow RIP only 52. Didn't like what I saw as ur angry hate-driven politics but such a shame for anyone to die that young. Sad 4 family 2.

— Rachel Joyce (@racheljoyce) March 11, 2014
Bob Crow was wrong about everything except the EU (and he was right about for the wrong reasons) - but he stood up for what he believed.

— Mark Wallace (@wallaceme) March 11, 2014