Bob Crow, the Rail, Maritime and Transport union leader has died of a suspected heart attack at the age of 52.
The outspoken leader passed away after being rushed to Whipps Cross hospital in London at around 7am from his home in Woodford Green.
Mr Crow was one of the most high-profile, left-wing union leaders of his generation, sparking as much anger from passengers hit by rail and Tube strikes, as praise from his members for winning pay rises.
SEE ALSO:
Bob Crow was one of the country's most high-profile union leaders
A spokesman for David Cameron said the prime minister offered his sincere condolences to Mr Crow's family and friends.
London Mayor Boris Johnson, who clashed many times with the union leader, said: "Whatever our political differences, and there were many, this is tragic news.
"I'm shocked. Bob Crow was a fighter and a man of character.
"Bob fought tirelessly for his beliefs and for his members.
"There can be absolutely no doubt that he played a big part in the success of the Tube, and he shared my goal to make transport in London an even greater success.
"It's a sad day."
The Rail, Maritime and Transport said it made the announcement "with the deepest regret".
"RMT would request that all media respect the privacy of the friends and family of Bob Crow at this distressing time.
"The union's offices will be closed for the rest of the day and the union will make further announcements in due course."
Story continues below slideshow
Bob Crow had appeared in a Radio 4 interview only hours before, on Monday night, to defend a pay rise for MPs.
He argued that MPs should be "paid adequately" so they could have "decent accommodation" so they were not forced to "scramble around the place".
He sparked controversy last year when he said Margaret Thatcher could "rot in hell" for what she did to the country during her time as prime minister.
And earlier this year the union boss defended his decision to take a tropical holiday just before an RMT strike.
"What do you want me to do, sit under a tree and read books of Karl Marx every day?," he said at the time.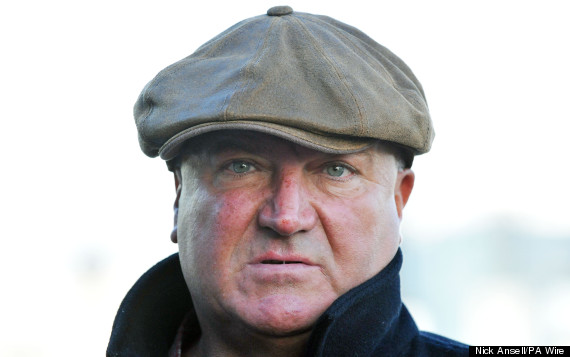 The union leader was often seen as a controversial figure
Ken Livingstone, the former Mayor of London, said: "I assumed he would be at my funeral not me at his."
"He fought really hard for his members. The only working-class people who still have well-paid jobs in London are his members," Livingstone told Sky News.
He said Mr Crow was "broadly right on most key issues" and that if more people had fought for the conditions of the working classes "this country would be a much better place."
"With the passage of time people will come to see that people like Bob Crow did a very good job."
Public and Commercial Services union general secretary Mark Serwotka, said Crow was a "towering force in the trade union movement.
"Bob was a great friend of PCS and never wavered in his support for us. Today we have lost a friend, a comrade and the greatest union leader of his generation."