Critics of the Government's plan to offer free school meals to every five to seven-year-old have questioned the official advice to help head teachers implement it.
Guidance from the Department for Education suggests schools could stagger or lengthen their lunch breaks, ask pupils to choose their meals two hours in advance or even bring in parents to chop vegetables and bake cakes, the Daily Mail said.
From September every child in an English infant school will be eligible for a free school dinner under a £1 billion scheme announced by the Liberal Democrats last year.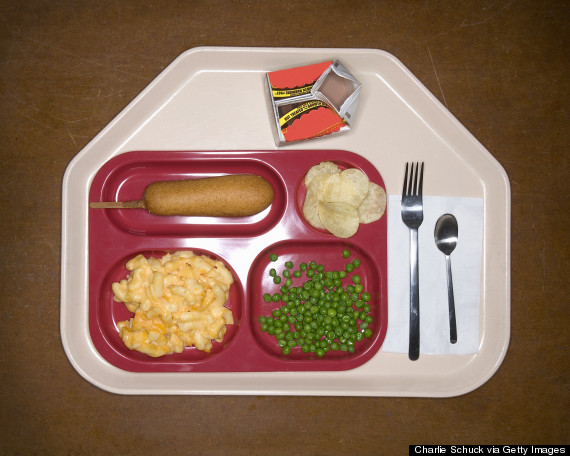 New guidance from the DofE suggests schools get pupils to choose their meals two hours in advance
Around £150 million of public money is being made available to help infant schools improve their dining facilities, while £450 million has been set aside in 2014/15 and £635 million in 2015/16 to fund the free lunches.
Announcing the scheme at the Lib Dem conference in September, Deputy Prime Minister Nick Clegg said the initiative would save struggling families £437 for each child per year, as well as having educational and health benefits.
But some heads have questioned the plans, warning their schools do not have the facilities to cope, and dismissed them as unworkable.
Gail Larkin, of the National Association of Head Teachers, told the Mail: "This policy was a nice soundbite and took us all by surprise - it just wasn't thought through properly.
"One school that has been trialling this has had to start lunches at 11am and finish by 2pm - it's ridiculous."
Among the suggestions in the Government's guidance is that schools should set aside extra time to help children learn how to use cutlery as part of their curriculum, the Mail said, and make lunchtime part of their set learning.
Using case studies as examples, the guidance - written with an introduction by schools minister David Laws - highlights a school where pupils are taught about the food they are eating, encouraged to eat more fruit and vegetables and shown how to use knives and forks.
It suggests schools could lengthen or stagger lunch breaks if they have lots of children to feed, and advises that heads could control noise levels by playing music and rewarding quiet pupils.
One head dismissed the advice as "ludicrous", and said the tips would have detrimental effects on other parts of school life, such as PE.
Jim Holditch, head of Godinton Primary in Ashford, Kent, told the newspaper: "They are not addressing the problem that we have, which is lack of capacity."
Holditch, whose school would need to improve its kitchens and dining halls, added: "How much of break time would be taken up getting children to pick what they want for lunch? That frankly is a ludicrous solution."
Graham Stuart, Conservative chairman of the Commons education select committee, said the policy should have been thought through more carefully and urged the Government to put back the September date for it to be brought in.
He told the Mail: "It does show the dangers of Nick Clegg pitching into education policy without being aware of the realities in schools."
A spokesman for the Deputy Prime Minister said the policy of free school meals has been five years in the making, and was piloted for two years from 2009.
He said: "Evaluation showed clear benefits for all in terms of educational attainment and healthy eating, but in particular for the poorest children.
"The plans are fully tested, well designed and properly funded. We are providing more than £1 billion to ensure children get a healthy meal in the middle of the day.
"We're also making sure that schools are not left out of pocket by putting £150 million on the table to fund new kitchen and dining facilities where they are needed. Every child deserves the best possible start in life, and at the same time we are doing all we can to help ease the pressure on household budgets.
"This not only encourages positive eating habits and helps improve concentration and performance in the classroom, but this will also mean significant savings for families."