The Facebook page of Tiger Tiger Cape Town has been hijacked by campaigners after posting the following promotion:
"Celebrating National Cleavage day in style with a R30 000 BOOB JOB GIVEAWAY!!! That's right ladies, what better way to celebrate the day then winning R30 000 towards a Breast Augmentation of YOUR CHOICE!!"
To enter the annual prize draw, people have to buy 2 'Tiger shots' between 13 March and 29 March, when the winner will be announced. "The Facebook event page for the giveaway helpfully says: 'the more you drink the more entries you receive and the better your chance of winning'. Apparently, men can get involved too and nominate a lady of their choice if their name is drawn."
Although we imagine the brains behind this was probably a pair of Beavis and Butthead characters muttering: "boobs, he he he", an interesting development has taken place.

Kyle Brinkmann, CEO at Do Work Records, who plays an active role in campaigning about breast cancer after his stepmother was diagnosed with the disease, has harnessed the powers of social media. He is asking people to pledge that anyone who wins gives the prize to a cancer survivor in need of reconstructive surgery or a transgender woman.
People were asked to post: "I support Kyle Brinkmann... 100%. If I win, I am giving the surgery to a breast cancer survivor or a transgendered woman in need."
Of course, not everyone got the message and a debate has broken out as to why women who want bigger breasts should be denied the opportunity.
In response to that, one user posted: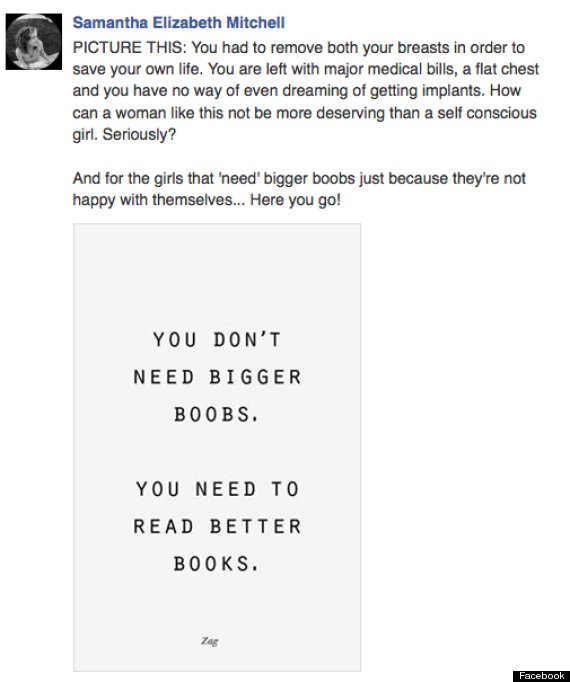 Follower Cayleigh Bright posted:
'What better way to celebrate' National Cleavage Day? I have some suggestions.
Donate R30 000 to an organisation that helps sufferers of anorexia or bulimia to gain some of the self-esteem that'll end their battle with themselves to achieve someone else's idea of perfection.
Give the money to an education initiative that's really increasing womens' assets, such as Women's Hope, Education and Training Fund. Make a donation to RC Cape Town Trust or Jes Foord Foundation, organisations that work to reinstate some of the self-worth that's been stripped from the survivors of sexual abuse.
Give that R30 000 to a charity like The Sunflower Fund that works with cancer survivors, male and female, whose bodies have been changed by their illness – the organisations which were originally intended to benefit from National Cleavage Day.
SEE ALSO:

Forget Neknominate, Coppafeel! Want Us To Check Our Breasts Using #CHEKNOMINATE