UPDATE: As of early Thursday morning, local police say that thee people have been confirmed dead and nine remain unaccounted for.
Three people have died and 18 are injured after a gas explosion caused multiple buildings to collapse in Manhattan, New York City.
Two buildings have reportedly collapsed, with photos and eyewitness accounts from the scene showing a massive dust cloud, roaring flames and smoke billowing high above Harlem.
New York Mayor Bill de Blasio said a gas leak was responsible for causing the building on the corner of 116th Street and Park Avenue to burst into flames, as residents reported smelling a strange odor to ConEdison right before the blast.
READ MORE: Man Pilots Drone Over Harlem Explosion Site (PICTURES)
UPDATE: Firefighters rushing the injured to hospital following Harlem explosion. Total chaos. pic.twitter.com/1IfGRh2sto

— Christopher Bucktin (@ChrisBucktin) March 12, 2014
Now: Photo of #Manhattan collapse. #FDNY has 39 units and 168 members responding. The scene is developing. pic.twitter.com/zWhTmi9Dsm

— FDNY (@FDNY) March 12, 2014
Huge explosion uptown new york city near metro north train tracks close to 116th..#developingpic.twitter.com/uNZaFsRSKa

— Obi Okere (@obiokere) March 12, 2014
First responders are already @ the scene...picture taken from the metronorth 125 th station #nyc#explosionpic.twitter.com/XxyuWwBYra

— Obi Okere (@obiokere) March 12, 2014
Huge apt(?) building explosion on E116th + Park Ave pic.twitter.com/YHz8AteCyY

— Jen Ortiz (@jenortiznyc) March 12, 2014
Manhattan: Park Ave & West 116 St. Major explosion and collapse with people trapped reported 10-60 transmitted. pic.twitter.com/TtWEqBb184

— New York City Alerts (@NYCityAlerts) March 12, 2014
CBS reports the smoke could be seen from 114th Street and Park Avenue.
NBC New York reports Metro-North trains nearby have been shut down due to debris from the explosion blocking the tracks.
As of this time, 17 injuries have been reported, with one fatality.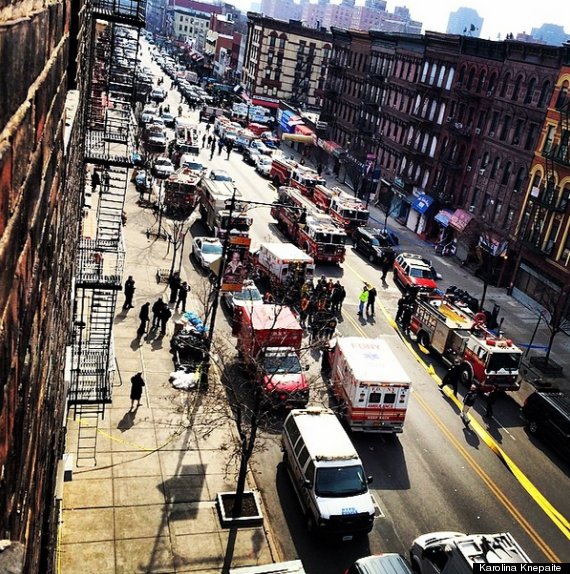 A man who was on the 15th floor of a building on 125th Street said he saw dark smoke billowing down several blocks.
"The building shook and then we looked to see what was happening. We saw a whole lot of smoke. A lot of smoke came out," witness Samuel Paul told CBS 2. "There's a lot of dark smoke still coming out. A lot of fire engines I saw going to 125th Street."
"The smoke started to rise. It looked like something fell because it wasn't like a fire. It just looked like debris smoke, similar to 9/11," Paul added. Another resident near the scene of the explosion said: "For weeks we've been smelling gas."
Ashley Rivera, 21, told New York Daily News: "We saw people flying out of the window. ... Those are my neighbors."
It has been reported one of the buildings that collapsed had a piano repair shop with apartments above. The second building housed a church.
A spokesperson for ConEd told NBC4 that at 9:13am they received a call from a resident at neighbouring 1652 Park Avenue saying she smelled gas in the bedroom of her apartment.
"She indicated that the odour may have been coming from the outside of the building,'' he said.
The company dispatched a crew two minutes later but they got there just moments after the explosion, he said.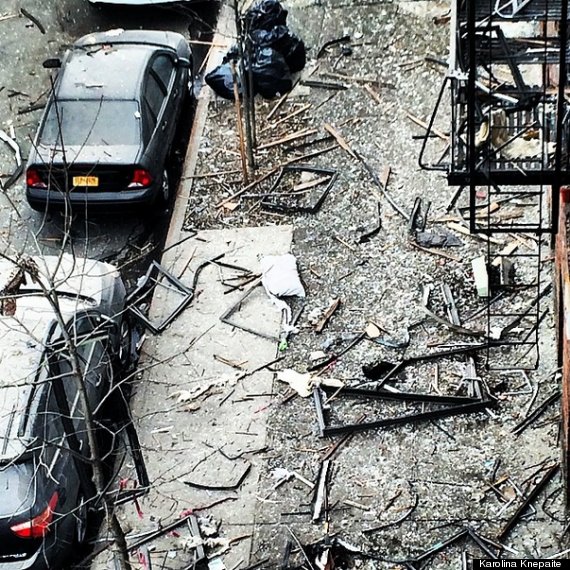 My brother just sent me a shot of explosion on 116th and Park Ave. CC: @AntDeRosa@quintendfpic.twitter.com/ksbHftlbSm

— Edward Kim (@edwkim) March 12, 2014