The Israeli parliament has passed a controversial national service bill that would ensure the draft of ultra-Orthodox Jewish men into the country's military.
The change in the conscription law, which has been pushed for by Yesh Atid and Jewish Home, junior partners in Benjamin Netanyahu's right of centre coalition, was passed on Wednesday by 67 -1, with those that opposed the legislation - 52 in total - preferring to boycott the vote in protest. An Ultra Orthodox Jewish man prays during a demonstration against the military service law
Leading up to the vote, mass protests had been staged by Israel's ultra-Orthodox community, with a demonstration in Jerusalem last week attracting thousands in opposition of the draft.
Ultra-Orthodox Jews have enjoyed a privileged position since the country's founding in 1948, being largely exempt from serving in the military in favour of studying in a seminary.
Spokespeople for the religious sect, which makes up about 10 per cent of Israel's eight million citizens, have argued that their young men serve the country by ensuring the continuation of Jewish heritage, however secular and less religious Jews have bemoaned the fact that a huge swathe of society is exempt from three years of military service.
Economists have also argued that having such a large percentage of the population unemployed while collecting welfare payments is a threat to the state's long-term finances. The issue of integration has also been cited, with secular Jews complaining that the ultra-Orthodox want to impose an extremely conservative interpretation of the religion on Israeli society.
According to Yaakov Peri of Yesh Atid, the party responsible for pushing forward the reforms, "The change begins tomorrow morning and it is expected to transform the face of Israeli society unrecognisably."
Naftali Bennett, the head of the rightwing nationalist Jewish Home, said, "This bill will allow hundreds of thousands of haredim – ultra-Orthodox men – to join the Israeli workforce and join the Israeli national service, the military... We are making history today."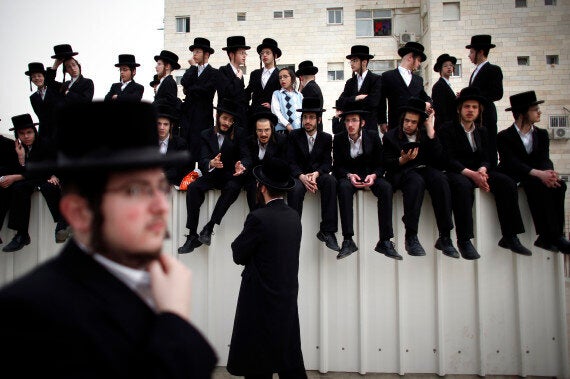 Around 60 per cent of the community's youth are to be drafted by 2017
However, Moshe Gafniof the United Torah Judaism religious party, said the vote meant Israel had "lost the right to be called a Jewish and democratic state".
Under the new law, around 60 per cent of the ultra-Orthodox community would be conscripted by 2017, with criminal punishment for those who look to dodge the draft. Last weekend, hundreds of members of New York's ultra-Orthodox community staged a protest against the legislation.
Related