Oscar Pistorius was not wearing his prosthetic legs when he broke down a door to reach his dying girlfriend after he shot her in the bathroom, a forensic expert has told the court.
The actual bullet-marked door from the ensuite bathroom in Pistorius' bedroom, through which he shot Reeva Steenkamp, and a replica of the toilet cubicle, have been brought into the courtroom in Pretoria.
The Paralympian is charged with premeditated murder, which he denies, claiming he mistook his girlfriend for an intruder.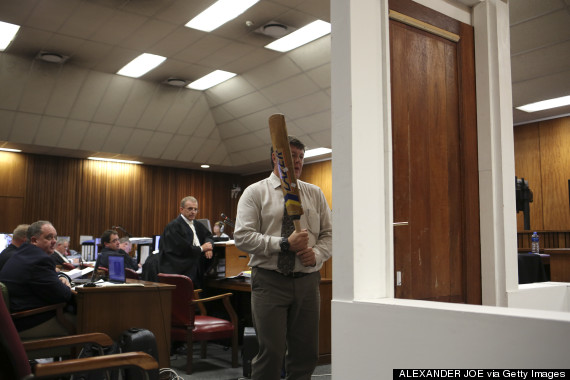 A reconstruction of the hitting of the door with the cricket bat during the trial of Oscar Pistorius
Lt Col Johannes Vermeulen demonstrated in court how Pistorius might have hit the door with a cricket bat to reach Steenkamp after she had been shot.
Balancing on his knees, he demonstrating how Pistorius may have swung the bat, saying the marks were consistent with the double-amputee being at that height, without his protheses.
His argument contradicts Pistorius' witness statement, where he says he rushed back to the bed and put on his prosthetic legs before smashing down the door with a cricket bat.
TOP STORIES TODAY
Neighbours heard two sets of gunshots, the second set, the defence argues, were the sounds coming from the bat striking the door.
Cross-examining, Pistorius' defence team asked the forensic expert to kneel once again, but this time asked him to lift his feet, which caused him to wobble.
Barry Roux, defending, claimed that Pistorius therefore would not have be able to balance on his stumps and hit the door with such force with the bat, as to be able to break it down.