A seventh body has been found in New York as authorities search through rubble for signs of life after a devastating gas leak in East Harlem.
Emergency officials pulled four additional bodies overnight from the rubble of two Manhattan apartment buildings, after the gas leak-triggered explosion razed two buildings to the ground and reduced the area to a pile of smashed bricks, splinters and mangled metal.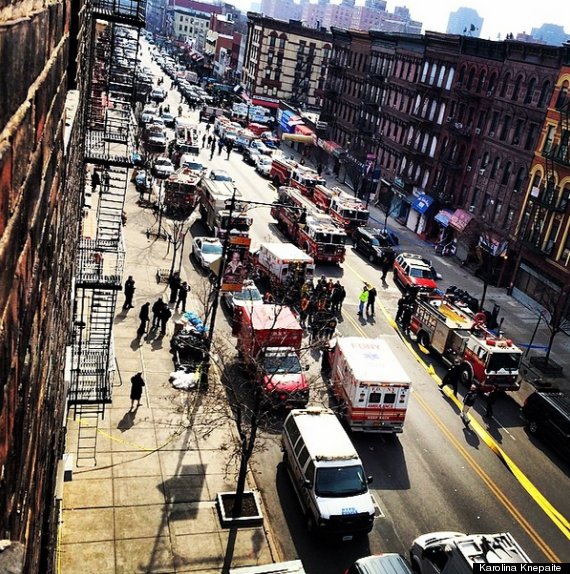 The explosion Wednesday morning in East Harlem injured more than 60 people, with searchers still trying to locate others a day later.
Crews used generator-powered floodlights and thermal imaging cameras to identify heat spots — bodies or pockets of fire — at the site on Park Avenue and 116th Street.
"This is a difficult job, a challenging job," Fire Department spokesman Jim Long said. He said it was "a very terrible and traumatic scene." Mayor de Blasio said rescue teams would be searching through the rubble of the building for survivors. "Those who are missing could well be safe in another location," de Blasio said. "There's a tremendous amount of anxiety, but suffice it to say that every effort is being expended to locate each and every one of these individuals."
Workers initially were hampered from fully accessing the building space because of a sinkhole caused by a subsurface water main break.
The fiery blast erupted just 15 minutes after a neighbouring resident reported smelling gas, authorities said. The Con Edison utility said it immediately sent workers to check out the report, but they didn't arrive until it was too late.
READ MORE: Man Pilots Drone Over Harlem Explosion Site (PICTURES)
UPDATE: Firefighters rushing the injured to hospital following Harlem explosion. Total chaos. pic.twitter.com/1IfGRh2sto

— Christopher Bucktin (@ChrisBucktin) March 12, 2014
Now: Photo of #Manhattan collapse. #FDNY has 39 units and 168 members responding. The scene is developing. pic.twitter.com/zWhTmi9Dsm

— FDNY (@FDNY) March 12, 2014
Huge explosion uptown new york city near metro north train tracks close to 116th..#developingpic.twitter.com/uNZaFsRSKa

— Obi Okere (@obiokere) March 12, 2014
A resident near the scene of the explosion said: "For weeks we've been smelling gas."
Tenants are said to have complained to the landlord about the "unbearable" smell of gas fumes as recently as Tuesday and that fire officials were called to the building weeks ago when the odour was particularly pungent, the Associated Press reports.
A few weeks ago, Ruben Borrero said, city fire officials were called about the smell, which he said was so bad that a tenant on the top floor broke open the door to the roof for ventilation.
"It was unbearable," said Borrero, who lived in a second-floor apartment with his mother and sister, who were away at the time of the explosion. "You walk in the front door and you want to turn around and walk directly out."
Manhattan: Park Ave & West 116 St. Major explosion and collapse with people trapped reported 10-60 transmitted. pic.twitter.com/TtWEqBb184

— New York City Alerts (@NYCityAlerts) March 12, 2014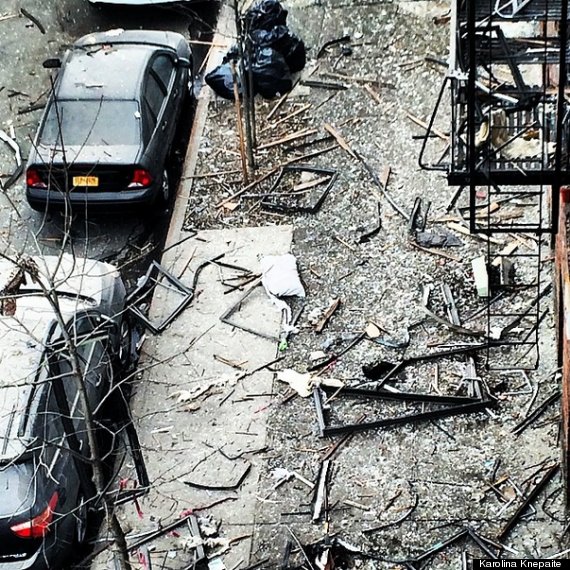 My brother just sent me a shot of explosion on 116th and Park Ave. CC: @AntDeRosa@quintendfpic.twitter.com/ksbHftlbSm

— Edward Kim (@edwkim) March 12, 2014
The fire department said a check of its records found no instances in the past month in which tenants of the two buildings reported gas odours or leaks.
Jennifer Salas lived in one of the buildings. She told The New York Times her husband, Jordy Salas, and her dog were in the building at the time of the collapse and were missing.
"There's six floors in the building; each floor has one apartment," she said. "Last night it smelled like gas, but then the smell vanished and we all went to sleep."
First responders are already @ the scene...picture taken from the metronorth 125 th station #nyc#explosionpic.twitter.com/XxyuWwBYra

— Obi Okere (@obiokere) March 12, 2014
Huge apt(?) building explosion on E116th + Park Ave pic.twitter.com/YHz8AteCyY

— Jen Ortiz (@jenortiznyc) March 12, 2014