A photo of the dead body of Reeva Steenkamp, killed by her boyfriend Oscar Pistorius, has been accidentally shown to the courtroom where the Paralympian is on trial for murder.
The athlete gasped as the image flashed up on screen, then buried his head in his hands, as members of the public gallery shook their heads in shock. He then vomited into a bucket, the second time graphic evidence has caused the athlete to throw up.
The courtroom accident occurred when images taken by Lieutenant Colonel Johannes Gerhard Vermeulen, a forensic analyst, and set to be used as evidence, were scrolled through publicly on the courtroom big screen.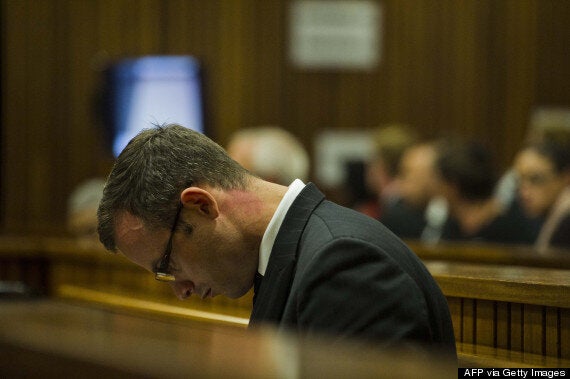 Oscar Pistorius sits in the dock during his murder trial at the North Gauteng High Court in Pretoria
The whole courtroom also saw a picture of Pistorius at the crime scene, with the double-amputee's prosthetic legs, clad in white socks, covered in blood. It also showed how extensive the blood smearing was on the floor, and on the door to the ensuite bathroom through which he shot his girlfriend.
Pistorius is charged with the premeditated murder of Steenkamp, which he denies, claiming he believed she was an intruder when he shot her through the locked door on Valentine's Day last year.
On Wednesday, Vermeulen had said he believed Pistorius was on his stumps when he fired through the toilet door, and when he smashed it down with a cricket bat, contradicting Pistorius' claim that he was on his prosthetic legs..
Defence lawyer Barry Roux said Vermeulen had "not bothered" to examine other markings on the door, which he said were made by a prosthetic foot. Pistorius has said in statements since the killing that he had felt vulnerable that night because he had been on his stumps.
Col Vermeulen argued this could have occurred if Pistorius stepped on the door after it was knocked down.
He said: "On my version it's also possible that he did not kick the door."
The trial also heard testimony from retired police officer, Col Schoombie van Rensburg, described how he had found Pistorius in the kitchen, pacing up and down. He saw Steenkamp's body lying in a pool of blood, which had been covered in white towels and black plastic bags.
He asked Pistorius what had happened, but "he was very emotional. He didn't understand", Van Rensburg said.
He described finding a splatter of blood by Pistorius' athletic trophies, and continued into the bedroom where he found the smashed toilet door locked.
Roux has slammed the police work in the investigation, and claimed a number of watches in a box in Pistorius's bathroom had gone missing.