"Space is a great equaliser," declares astronaut Jon McBride, who is currently on a mission to get more kids - and women - to infinity and beyond.
McBride is the ultimate role model for following dreams; he aspired to be an astronaut as a young child, joined the navy, and through hard work and determination, followed in the footsteps of his hero Neil Armstrong and made it onto NASA's space programme in 1978.
The 70-year-old was selected by NASA when he was 33, but only made one voyage to space, due to the space shuttle Challenger disaster, which killed all seven crew members, and resulted in several flights being deferred in the wake of the crash.
I had the pleasure of meeting McBride at lunch, on his way back from visiting a school to give a motivational talk on how to become an astronaut. All fears of "how will I recognise him?" were quelled when I spied a man striding towards me in a NASA badge-covered bright blue boiler suit and aviators.
As we walked into the restaurant, McBride was greeted like a celebrity, shaking hands and agreeing to pictures - perhaps unsurprisingly, considering he is one of 500 or so people in the world to have ever gone to space.
After McBride, his female entourage, and I had ordered, McBride enthusiastically flexing his Italian linguistic skills at the bemused waiter, we finally got down to business.
So what qualities does an astronaut need?
According to McBride, it's the ability to work with people and understand the concept of working in a team. "It's a very close knit community," he explains. "But it is psychologically tough."
As for women in space, the new class of astronauts is made up of four women and four men - the first 50/50 split in history.
"I am seeing more and more women in space and engineering careers," McBride, who flew in the STS 41-G Challenger aircraft, says. "It's brilliant."
"I think nowadays if young people listen to what I, and other astronauts are telling them, they have a better change of going to space than I did when I was younger.
"I've been touring schools and I'm going to the Big Bang Fair in Birmingham so they can ask questions and here how to get into the industry, whereas these opportunities didn't exist when I was young."
McBride was in the navy for 13 years as a naval aviator, and attended the U.S. Naval Postgraduate School earning an aeronautical engineering degree in 1971, which he says prepared him for his career as an astronaut.
"I knew I wanted to pilot a space craft, so I just followed in the footsteps of others who had been in the navy and progressed onto NASA.
"I think I got picked because when I was asked why I wanted to be an astronaut, I said I was from West Virginia and they needed a hero."
To this day, McBride is the only astronaut from the state.
Story continues below gallery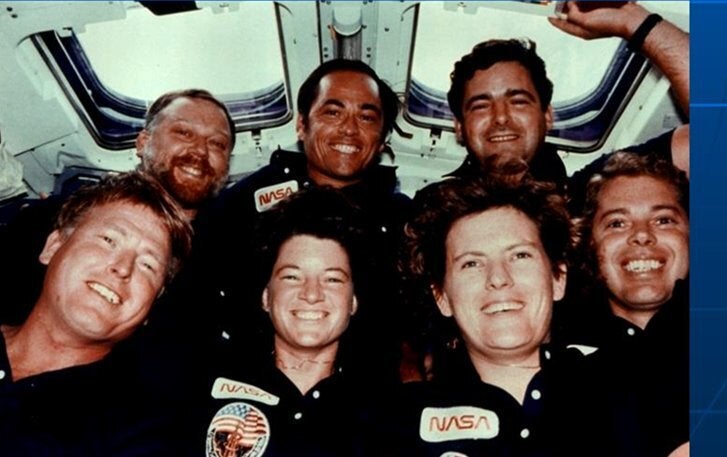 Jon McBride
He reiterates the importance of not giving up, even if you doubt your ability, while perseverance is key.
"I wanted to become an astronaut since school, but I thought the odds were pretty small.
"As I progressed further and further through the selection process, I realised I was good as pilot as anyone else in there.
And how realistic is getting to Mars? Is that the new Moon for this generation - and is it an attainable dream for young people?
"Absolutely," he says. "Don't wait 10 or 15 years if you want to get to Mars. Start studying today. That's what's going to get you there. But even if you're 18 years old, it's not too late. You'll be 30 before you get chosen to be an astronaut. It takes 15 years of education and practise and only then will NASA train you to go into space."
McBride says the training was so intense it was like going to back to school for another degree.
"But the beautiful thing about it," he continues, "is that it's not about power or speed or strength. It's about brains. I like to think I wake up and learn something every day."
McBride now tours schools, giving motivational talks, and says he's touched by the amount of students he's inspired.
"I had a letter from one student who said he was going to drop out of school but decided to stay on after I visited his school. Now he's working for the space programme.
"I have so many letters from people telling me how they were inspired. I always feel so great. I think if I've even inspired one person, it's been worth it.
"I always say: when you are on that spaceship going to Mars, remember who inspired you and give me a call. Oh, and take me with you!"
As we're drawing to the end of our meeting, I finally pluck up the courage to ask the question I've been dying to ask: What was the food like in space?
"It was great!," McBride explains. "I had a shrimp cocktail. You can get pretty much any food you want."
And with that, he gives me a packet of freeze-dried space ice-cream - which passes the taste test back at the office. Although the texture is bizarre, rather like biting into polyester filling, it's surprisingly creamy and melt in the mouth.
Although at the age of 24 I've probably missed my chance to go pilot a space craft, I certainly won't be scoffing at any kid who says they dream of being an astronaut anymore.