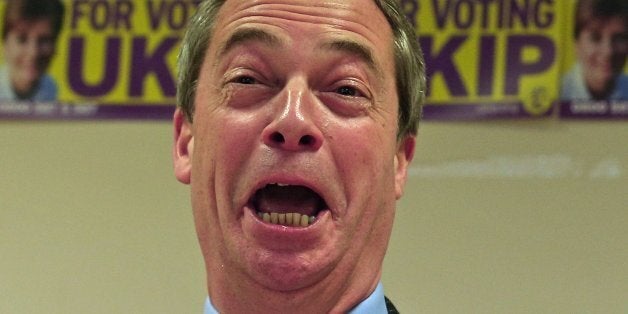 Ukip will win the elections to the European Parliament in May, according to a new ComRes poll. Commissioned by The Independent On Sunday and Sunday Mirror, the opinion poll suggests that Nigel Farage's party will get 30 per cent of the vote (based on the 38% of respondents who said they were "absolutely certain" to vote).
Second in the poll are Labour with 28 per cent, while the Tories languish in third with 21 per cent. The Lib Dems and Greens come in fourth and fifth with eight per cent and six per cent respectively.
Speaking to HuffPostUK in March, Tory MEP Dan Hannan said he expected Ukip to either win or come second in the European elections. "I think Ukip will do very well. They may win or they may come second to Labour. I would be very surprised if we [the Conservative Party] held our position."
Ahead of the 2015 general election, polls show Labour are in the lead with 35 per cent, leading the Conservatives, who are on 32 per cent. Ukip are on 16 per cent and the Lib Dems remain on nine per cent.
:: ComRes interviewed 2,001 GB adults online between March 12 and 13.
Related