The answer is yes and no.
In Veronica's return, we find the precociously adept teenage detective grown up, groomed and ready for action at a top New York law firm where, she tells a curious Jamie Lee Curtis, she's put her nosey-parker past behind her.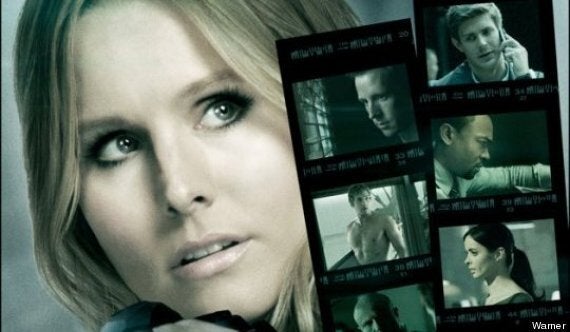 Veronica Mars has been offscreen for seven years, but she still has a huge following
Until… all of five minutes in, her chat with neat New York boyfriend is disrupted by news that her old school chum, now pop star Carrie Bishop (played this time around by Andrea Estella), has been found murdered in her bath, with all arrows pointing to Carrie's's boyfriend, Logan Echolls (Jason Dohring) – a name fans will recognise as Veronica's former great love, and a man she feels compelled to help clear his name.
And so we're back… to Veronica's home of Neptune, California, with her bemused and concerned pa, her resolutely normal friends, and her spurious but helpful connections to the county's more legitimately recognised crime-fighters.
An aptly-timed school reunion gives her the chance to get the better of her former school yard, bitchier peers, because their lives haven't moved on at all and she's a hot shot New York lawyer… or at least she would be, if she returned their calls instead of running around with Logan, much to her father's despair.
You get the picture. Both the good news and the bad news is that neither Kristen Bell as Veronica Mars nor her surroundings have changed a bit, with the result a glossy feature-length episode that you feel could be any of the extra ones from the Veronica Mars box set.
There are some witty asides for knowing fans, including even a poke at Kickstarter itself in the first five minutes. Keen followers will, no doubt, be delighted to see their heroine return to the screen. And we know from watching 'Sex and the City 2' the perils of departing too far from the familiar haunts for the sake of the big screen experience. But anybody less than the most tireless of Veronica's acolytes will surely be wishing that they'd got a little more for their hard-earned Kickstarter coins.
'Veronica Mars' is in cinemas now and available to download from various film subscription sites. Watch the trailer here...