One of the bodyguards of British National Party leader Nick Griffin has been arrested in Merseyside.
Martin Reynolds, 46, was taken into police custody outside a fundraising event for the far-right party in St Helens at 6pm yesterday.
Merseyside Police confirmed officers were called to Forrester Avenue, Thatto Heath, by a woman reporting that a man had got out of a car and made a derogatory remark towards her.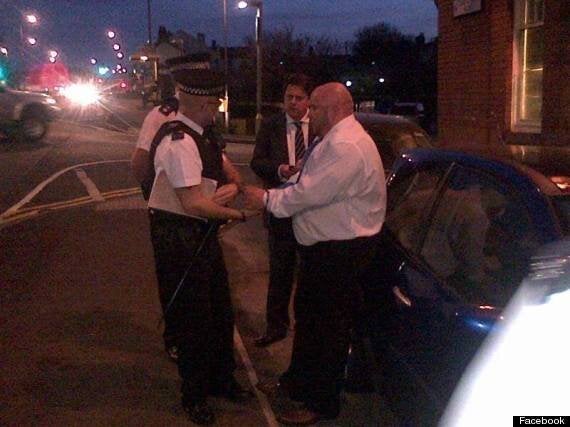 Photographs on the BNP's Facebook page show Nick Griffin looking on as Martin Reynolds is led away
Reynolds, who is from the Leeds area, was then arrested on suspicion of an aggravated public order offence.
Photographs on the BNP's Facebook page show Griffin looking on as Mr Reynolds is led away by police officers.
On their Facebook page, the party claim the arrest was "politically motivated" and that the police have not revealed why he was arrested.
A spokeswoman for Merseyside Police said the 46-year-old was released on police bail this morning pending further enquiries.