Former England captain John Terry's father drunkenly head-butted a man outside a pub and called him a "f****** Paki" in a dispute over a cigarette, a jury has heard.
Ted Terry, 59, allegedly attacked railway worker Amarjit Talafair on 22 March last year after several hours drinking in the City of London.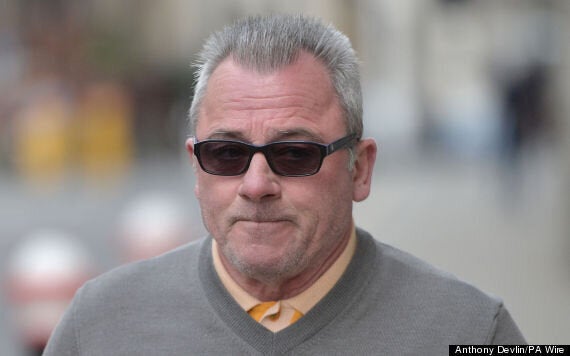 Ted Terry admitted to 'acting the goat'
The Old Bailey heard that Terry was with co-defendants Stephen Niland, 36, and Tudor Musteata, 47, when someone asked Mr Talafair and his friend Scott Faal for a cigarette outside The Windsor pub.
When the complainant and his friend said they did not have cigarettes, they were followed and Terry allegedly shouted "F****** Paki, come here" before head-butting him beneath the nose.
Terry, who was wearing a West Ham top at the time, then went on to Fenchurch Street station and allegedly threatened a cleaner called Bakeba Mansuila with a bottle, saying: "I'll smash it over your head, you black c***."
Prosecutor Alex Chalk told the jury of seven men and five women: "This is a case about racist threats, racist abuse and, it is alleged, racist violence directed towards a member of the public who happens to be Asian.
"It is alleged that after several hours drinking in the area of Fenchurch Street station, these defendants became involved in a dispute with a man called Amarjit Talafair.
"It is alleged that they quickly became aggressive and abusive, following the complainant and shouting'f****** Paki, come here'.
"It is alleged that the defendant Edward Terry said words to the effect of "f****** Paki, let's have it right here and now'.
"There was allegedly a confrontation, which culminated with Edward Terry approaching Mr Talafair and headbutting him, striking him just below the nose, and that the three men then walked off towards Fenchurch Street station."
He added: "Edward Terry uses Fenchurch Street station regularly and is well-known to station staff as the father of a prominent footballer."
The Chelsea captain's father, of Lennox Close in Grays, Essex, denies one count of racially-aggravated common assault and one count of racially-aggravated fear or provocation of violence .
Niland, of Quarles Park Road in Romford, Essex, and Musteata, of Tarves Way in Greenwich, south east London, deny one count each of racially-aggravated fear or provocation of violence.
The court heard that no charges had been brought in relation to the incident involving Mr Mansuila, who is known as "Bax".
When interviewed by police on 28 March, Terry admitted that he started a confrontation and had been "acting the goat".
At one point during the confrontation, he claimed, he was approached by a man carrying a bottle.
Believing himself to be in danger, he disarmed the male and then pressed his head against the man's forehead before leaving with Niland.
Terry also told police that he could not remember what the man looked like, but thought that he was "half-caste".
He denied using racist language or making threats of violence, but claimed he had heard someone he declined to identify shouting racist abuse.
Interviewed last April, Niland and Musteata said there had been an altercation but denied using or hearing racist language.
Comments are closed for legal reasons