The 'X Factor' musical 'I Can't Sing' has been forced to change a line in the show's script mocking Andrew Lloyd Webber - because he owns the theatre where the show is running.
The original line made fun of Lloyd Webber's most recent West End show 'Stephen Ward' which received mixed reviews and is set to close after just four months.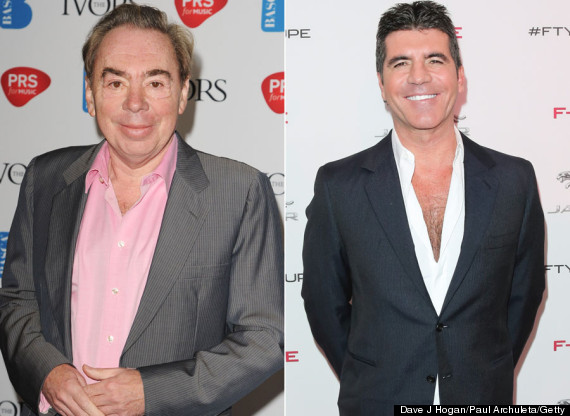 Andrew Lloyd Webber and Simon Cowell
An insider told The Mirror: "They didn't want to run the risk of upsetting him. After all, he does own the Palladium. Lloyd Webber is ­blissfully unaware."
'I Can't Sing' was written by comedian Harry Hill, and is intended as a send-up of 'The X Factor', featuring characters based on Dermot O'Leary, Louis Walsh and Cheryl Cole, who announced last week that she will be returning to 'The X Factor' after three years away from the judging panel.
Meanwhile former 'Eastenders' star Nigel Harman is taking on the role of Simon, based on show boss Simon Cowell.
Far from being offended by his portrayal in the musical, Simon is one of the show's co-producers and also financed the project.
Harry told Digital Spy back in November: "He's done the decent thing and let us get on with it. He has been incredibly supportive. He's been our number one supporter and he'll be there on opening night with all his showbiz pals."
In fact, Simon has been so in on the joke he's even been advising actor Nigel Harman on ways to make the 'Simon' character more easy to dislike, urging him to "be a d*** every night".
'I Can't Sing' opens on 26 March.
LIKE US ON FACEBOOK | FOLLOW US ON TWITTER