Justin Bieber's latest tattoo appears to have been blasted by the very artist who unintentionally inspired the inking - British street graffiti artist Banksy.
After posting the image on Instagram, the 20-year-old singer deleted the snap, but the artist himself also appears to have spotted the pic in time and a Facebook page which is thought to represent the mysterious Banksy has posted a snap of the tatt accompanied by a single word comment: "Controversial".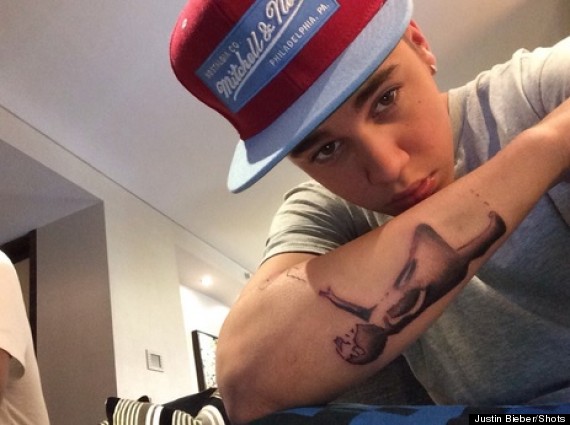 Justin happily showed off his tatt before removing the image from Instagram
Banksy's Facebook fans were even less tolerant of the 'Baby' singer's ink and one jokey comment stating "Amputate under copyright laws" has over 2,500 'likes'.
The iconic Balloon Girl image was first graffitied onto a wall in London neighbourhood Hoxton back in 2002, however the section of wall bearing the etching is set to be removed and sold in coming months.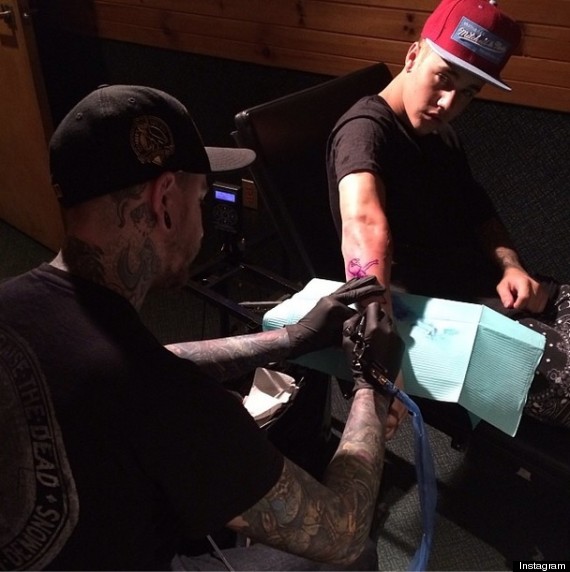 Tattoo artist Glen Hartless shared a snap of the design as a work in progress
Perhaps Justin's just showing off his art knowledge and expressing his sadness at the piece's sale?
Or maybe he just did a quick google search on his iPhone while they got the needles ready - who knows?
Earlier this year, fans got to see images of all of Justin's various tattoos when the Miami Police Department released photos taken while the Canadian singer was in custody under suspicion of driving under the influence, resisting arrest and holding an invalid licence.
Justin has pleaded not guilty to all three charges.
Banksy recently revived the Balloon Girl image to mark 3 years of the Syrian conflict, actor Idris Elba and band Elbow have both lent their support to the campaign.
LIKE US ON FACEBOOK | FOLLOW US ON TWITTER