Thousands of Facebook users have been duped by a fake picture of missing plane MH370 "found" intact inside the Bermuda Triangle.
Just to be clear - the plane has not been found, as of press time.
But a scam hitting the social network, as well as email and other social media sites, purports to show an image of the plane floating on the ocean near an island in the legendarily treacherous region.
The picture says that the 239 passengers and crew are "alive" after a "miracle".
But anyone clicking the link will be taken instead to a site filled with malware which can easily infect a computer or potentially a mobile device.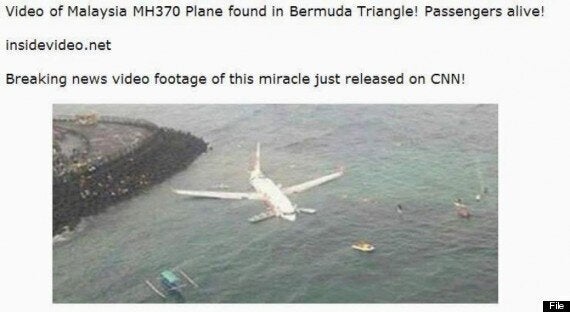 Security firm Trend Micro warned that the page had been found in at least one instance to contain a hidden file that collected users' data.
"Given the heightened interest in the missing flight, it was only time (before) cybercriminals used it to their advantage," TrendLabs expert Paul Oliveria said in a statement.
Thankfully in the real incident all 108 passengers survived after the plane crashed into the sea after attempting to land from Ngurah Rai Airport.
Other scams, some promising video of the "found" jet, have been discovered which prompts users to share the video before they can watch the footage.
Wired reports that the links have been found on various sites since at least the end of last week and are only proliferating as the real-world mystery deepens.
These pages too have been found to be dangerous for users' data, and should be avoided. Above: another picture of the actual Lion Air crash which occurred near Bali in 2013
"Sharing the video, of course, helps cybercriminals spread their malicious link to other users," Trend Micro said.
"After sharing, the user will be asked to verify his age by completing a 'test'. The test was "nothing but another survey scam."