It might be the most serious geopolitical crisis in a decade, but that doesn't mean you can't have fun with it.
The jokes keep on flowing from the Russian side about the pitifulness of Western threats, after the annexation of Crimea from Ukraine.
Emailed by Foreign Policy, asking which US politicians may face a counter-ban by Russia, the Russian Embassy in Washington wrote back: "TBD [to be decided] :-)"
Yes, that's a smiley emoticon.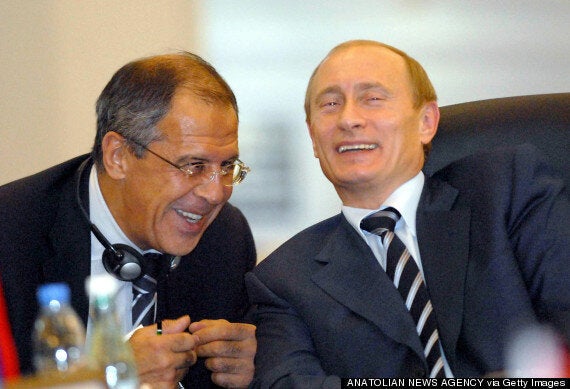 US senators, congressmen and aides to President Barack Obama are expect to be included on Russia's sanctions list.
Key figures that could be subject to bans are Senate Majority Whip Dick Durbin and former presidential candidate John McCain, according to the Daily Beast.
"My Lithuanian-born mother would be proud her son made Vladimir Putin's American enemies list," Durbin told the website.
"It's a big honour for me," he said.
"I don't have accounts abroad. The only things that interest me in the US are Tupac Shakur, Allen Ginsberg, and Jackson Pollock. I don't need a visa to access their work. I lose nothing."
Despite Russia's nonchalance about Western anger, more severe sanctions could be on the way.
Britain has suspended all arms exports to Russia and cancelled all military co-operation, amid fears there is a "grave danger" of military escalation in Ukraine, Foreign Secretary William Hague announced on Tuesday.
Britain has sold more than £86m of sniper rifles, ammunition, drones and laser technology to Russia in just over a year, with 271 arms export licences active, HuffPost UK reported earlier this month.
"The crisis in Ukraine is the most serious test of European security in the 21 century so far," Hague told MPs.
Russia had "rebuffed all efforts" to find a solution ahead of the "illegal" referendum.
He added: "No amount of sham and perverse democratic process or skewed historical references can make up for the fact that this is an incursion into a sovereign state and a land grab of part of its territory with no respect for the law of that country or for international law."
Tory former foreign secretary Sir Malcolm Rifkind has criticised the "pathetic" international response to the crisis but Prime Minister David Cameron insisted the West had taken a "robust" approach.
Downing Street said that preparatory work will begin at the European Council in Brussels on Thursday on further EU sanctions which could be implemented against Russia.
Asked whether Cameron was concerned that sanctions against Russia could harm the economic recovery, the PM's spokesman said: "Do we take action understanding that there may be and are costs that are incurred? Yes. But is it important where sovereignty has been infringed for us to take robust action? Yes, it is."
France's foreign minister Laurent Fabius indicated that Paris wants Russia to be suspended from the G8 group of leading global powers. The other seven members of the group had already suspended preparations for a G8 summit that Russia is scheduled to host in Sochi in June.
Popular in the Community