Former England captain John Terry's father was overheard saying "when the police call, tell them I never said those things" days after allegedly headbutting and racially abusing an Asian man, a court has heard.
Ted Terry, 59, is accused of calling Amarjit Talafair a "f****** Paki" and attacking him following a dispute over a cigarette outside a City of London pub.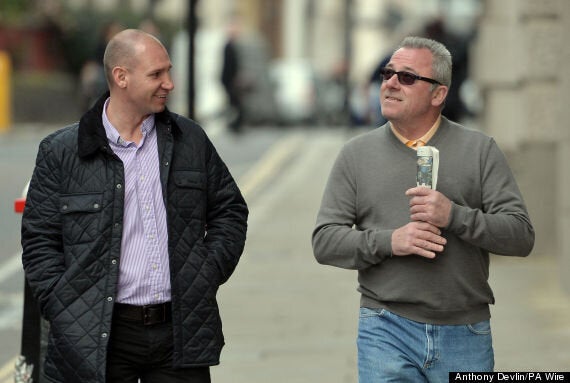 Ted Terry (r) with co-defendant Stephen Niland
Stephen Niland, 36, and Tudor Musteata, 47, are also accused of hurling racist abuse at Mr Talafair on 22 March last year.
The Old Bailey has heard that Terry later got into a confrontation with Bakeba Mansuila, a cleaner at Fenchurch Street station, and allegedly called him a "black c***".
Giving evidence, railway station worker David Bridson told the jury of seven men and five women that he had witnessed the second fracas.
Mr Bridson said he saw Terry take the bottle of rum that Mr Mansuila had been drinking from and make racist threats towards him.
The witness said: "The threat that I heard was that he (Terry) was going to a smash a bottle over his head and he called him a black c***.
"I was in the middle of both of them and I actually held the bottle to stop him from doing anything.
"He said 'what are you doing', who was I and I explained I worked for the company and he said 'I will smash this bottle over your head'."
Mr Bridson claimed that on 28 March - the day Terry was arrested and interviewed - he had seen the defendant at Fenchurch Street station.
He claimed to have overheard the defendant saying on his mobile phone: "When the police call, tell them I never said those things".
Earlier, alleged victim Mr Talafair told the court that Terry had at first approached him using a fake Eastern European accent to ask for a cigarette.
The complainant admitted that he had called Terry a "fat bald p****" but denied using the words "Russian c***" and "I will cut you" during the stand-off.
During the attack, he said that Terry tried to headbutt him, but he was able to avoid injury by pulling back.
Mr Talafair reported the incident to police the following day after researching Terry online, the court heard. He asked officers about taking his story to the newspapers, but was told that it would interfere with the investigation.
Alexia Power, defending Terry, asked if Mr Talafair had been aware of John Terry's court case for alleged racial abuse in 2012, Mr Talafair said: "I follow football, so yes."
The Chelsea captain was cleared of racially abusing former Queens Park Rangers defender Anton Ferdinand in court, but later faced disciplinary action from the Football Association.
Ms Power asked Mr Talafair: "You are saying this now because you want to sell your story to the papers, aren't you?"
The alleged victim replied: "No - you can't abuse someone for the colour of their skin and have an argument just because I'm Asian and try and assault me."
Cleaner Mr Mansuila, known as Bax, told the court that he had been drinking a bottle of rum when he witnessed a "heated exchange of words" between Terry and another man on one hand and a friend of Mr Talafair's on the other.
Going over to see what was going on, the witness said that Terry's friend, a tall man, had turned around and said "What are you going to do with that bottle mate?"
The man had then grabbed hold of the bottle, causing him to freeze "because of the way he was looking at me and his size".
Mr Mansuila said he grabbed the bottle back and the man started calling him a "black c***".
When Terry and his friend left and went into Fenchurch Street station as things calmed down, Mr Mansuila said he had heard the words: "I should stick a bottle up your mother's c***."
No charges were brought over the incident involving Mr Mansuila.
Terry, of Lennox Close in Grays, Essex, denies one count of racially-aggravated common assault and one count of racially-aggravated fear or provocation of violence.
Niland, of Quarles Park Road in Romford, Essex, and Musteata, of Tarves Way in Greenwich, south east London, deny one count each of racially-aggravated fear or provocation of violence.
The trial was adjourned until Wednesday.
Comments are closed for legal reasons.