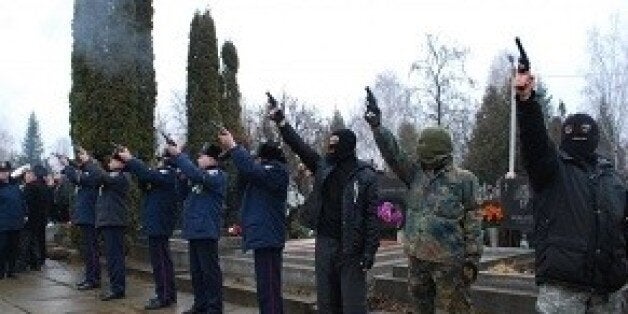 Standing sombre in a line, clad in black and their straight arms raised at the ominous angle clutching pistols, the members of Kiev's far right group were not where you might expect.
According to the Euro-Asian Jewish Congress, Alexander Scherbanyuk, a 46-year-old father-of-two, was reportedly buried last week in his home town of Chernivtsi, dressed in a traditional Ukrainian vyshyvanka shirt and with a gas mask, a hardhat, and a kippah [Jewish skullcap].
A military band played over his coffin, and masked 'Right Sector' activists fired a salute of shots into the air, it was reported.
Vyacheslav Likhachev, a Ukrainian activist posted on a blog for the EAJC that Scherbanyuk's wife Anna told him she tried to stop her husband going to the Maidan, fearing he would be killed, but he had told her "that's not the worst kind of death."
"Everyone is equal in heaven. Old and young, intellectuals from universities and simple working joes. A boy who ran away in secret to the Maidan for the very first time and who was killed by a sniper in two hours. A Belarusian UNSO activist. Ukrainians. Russians. Armenians. Georgians. Jews," Likhachev wrote in the blog.
"'Right-wing' and 'left-wing', young and old, 'eastern' and 'western.' None of them had held weapons. All of them were killed by professional sniper fire, and the snipers saw very well who was it they were shooting.
"The national or religious heritage of those who were killed is, of course, not important in truth. Just as their age, gender, political views aren't important.
"But the propaganda makers in Kremlin's pay, as well as those who listen to them and who are too rooted in their stereotypes to open their eyes and see the truth for themselves, are still continuing their ritual howling about "anti-Semitic Bandera followers taking power - the descendants of those who killed the Jews at Babiy Yar! [the site of a famous massacre of Ukranian Jews by the Nazis]"'
Related