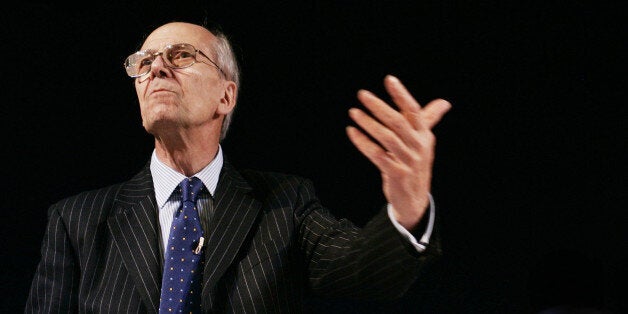 Lord Tebbit, the Thatcherite former Conservative cabinet minister, has criticised the government's "bedroom tax" policy and warned it will cost the Tories votes at the next general election.
"I worry about what Labour chooses to call the bedroom tax," he said. "Because so often what is a spare room is in fact a vital part of the looking after an elderly person. It enables their relatives to come, it enables carers to be there."
He added: "I think we introduced that rather without thinking it through very well, and I think that's costing us."
Tebbit made the comments on Wednesday evening at an event in parliament held by The Bow Group. Delivering the conservative think-tank's first Annual State of the Conservative Party Address, he said the chances of the Conservatives winning the next election were "not looking too hopeful".
Under the coalition's policy, families receive less housing benefit if they are deemed to have more bedrooms in their home than they need. Ministers insist the change is necessary to reduce the housing benefit bill and also free up much needed living space.
Tebbit's comments ally him, unusually, with Ed Miliband. The Labour Party has said the measure unfairly targets poorer people as well as the disabled and has pledged to abolish it should the party win power in 2015.
The veteran Tory peer, who is no cheerleader for David Cameron or the coalition, told Conservative activists that the leadership of his party needed to woo back Ukip voters if it had any chance of winning the next election.
"David Cameron could only manage 10.7 million [votes in 2010], that was simply not good enough, there was really no excuse for it," he said.
"His efforts to gather Lib Dem support meant he reinforced the conviction of Lib Dem voters that the Lib Dems were right and we left many of our voters lost."
Cameron alluded, perhaps unintentionally, to his failure to secure a majority at the 2010 election during prime minister's questions on Wednesday when he conceded to an MP that he was "not the world's biggest expert in campaigns".
Tebbit is a fierce critic of Cameron's attempts to modernise the Conservative Party and blames the strategy for the party's current inability to overturn Labour's poll lead.
He said that should Ukip come top in this May's European elections, as is widely predicted, then the Conservatives would need to sign an electoral pact with Nigel Farage to prevent Labour winning in 2015.
He said local Tory parties should look at whether it was the Conservative or Ukip candidate that was most likely to beat the Labour or Lib Dem challenger - and then vote accordingly.
"Where we look at a constituency we should say who has the best chance of ensuring we do not get a Lib Dem or Labour member elected," he said.
"If it's a Tory, Ukip ought to withdraw, if it looks to be Ukip then we should withdraw and tell our voters they should go that way."
Tebbit also said that the coalition had been a mistake and the sooner it was ditched the better - even if it meant forcing a general election. "The coalition has gone past its sell by date, it's beginning to smell a bit," he said.
However despite his hatred of the coalition, Tebbit said he did not object to all the Lib Dem ministers in government. "The chief secretary to the Treasury is one of the best of them," he said. The compliment is unlikely to be received warmly by its target, Danny Alexander, who has in the past been accused of being too close to George Osborne.