The Turkish prime minister has moved to silence anti-government protesters responsible for multiple demonstrations in recent weeks following the death of Elvan Berkin by blocking access to the micro-blogging site Twitter.
Beleaguered leader Recep Tayyip Erdogan, whose main support comes from the country's conservative Islamic community, threatened to close access to the social network in a speech on Thursday. At midnight (local time), access to the popular communication tool stopped, with PC users, confronted with a notice from Turkey's telecommunications authority citing court orders, forced to use a virtual private network (VPN) to gain access to their accounts. No access was available for mobile users.
According to the FT, the company quickly responded to the prohibition by advising Turkish users on how to use text messages to get around the ban. According to AP, Twitter spokesman Nu Wexler said the social network was looking into the outage.
The move by Erdogen comes ahead of local elections on March 30, followed by parliamentary elections, the build up to which has been dogged by allegations of fraud and corruption. Recordings have been published on Twitter and across other social networks in recent weeks showing the prime minister affecting decision outside the purview of his office.
Addressing a campaign rally in Bursa, the embattled PM told supporters: "We now have a court order. We will wipe out Twitter… I don't care what the international community says. They will see the Turkish republic's strength." According to Turkish newspaper Hurriyet, the government has accused Twitter officials of ignoring court rulings demanding they remove links.
A press advisory printed in the newspaper read: "[In Erdogan's speech] it is stated that as long as Twitter fails to change its attitude of ignoring court rulings and not doing what is necessary according to the law, technically, there might be no remedy but to block access in order to relief our citizens."
Speaking to HuffPostUK by email, Can Esat Yalkin, a 28-year-old freelance photographer from Istanbul, speculated that more revelations about corruption in the Erdogan government were imminent, so the PM moved to stop the distribution by one of the main social media channels. Yalkin added: "There is a #TwitterİçinSokağaÇıkıyoruz hashtag, which means we are going out streets for Twitter but I think this hashtag was created by the government to provoke people. But people who don't support government will stay calm and not be provoked."
Following are pictures of recent clashes between anti-Government protesters and police following the burial of Elvan Berkin: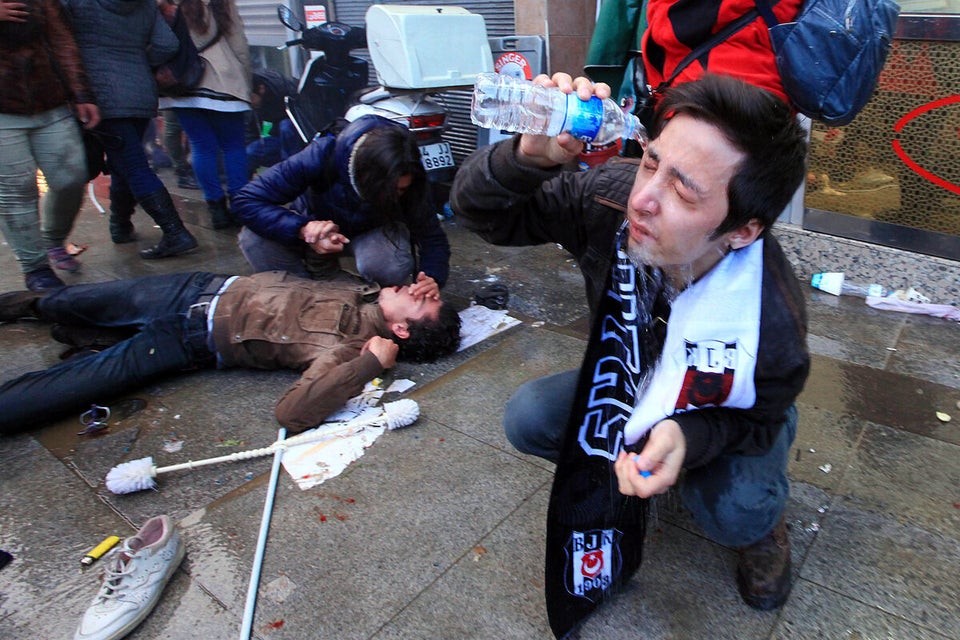 Second Night Of Riots In Turkey
Related