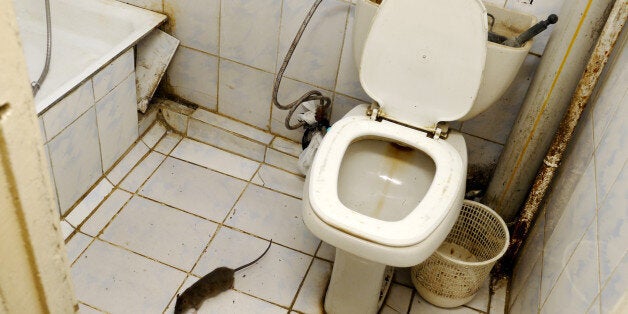 A quarter of students' homes are infested with rats, mice or slugs, while nearly a third are riddled with damp, condensation and mould, research has revealed.
The shocking figures show only 87% of properties have smoke alarms fitted, with carbon monoxide detectors provided to only 32% of students.
The research also reveals more than 75% of students had experienced at least one problem with the condition of their home, while nearly half said their accommodation was poorly insulated and/or draughty.
One student, who wished to remain anonymous, told HuffPost UK she is currently suing the owners of her previous accommodation because a sink collapsed on her and she had to go to hospital for nine stitches.
A further 20% had experienced pressure to sign a contract and almost a quarter had been asked to pay a holding deposit without having seen a copy of the proposed contract, the survey by the National Union of Students (NUS) revealed.
More than half of respondents had paid £500 or more to secure their property, with 21% paying £1,000 or more. Students are also receiving unfair treatment when it comes to deposits.
Only half of students were sure their deposit had been protected, while of those who had previously left a rented property as a student, 43% had had some or all of their deposit withheld. While three quarters of students disagreed with the deductions and more than half challenged them, a mere 16% were able to achieve a change in the amount they received.
Half of respondents (50 per cent) who had all or part of their deposit returned reported that it took a month or more to receive their money. Just four per cent reported using a dispute resolution service, indicating that many may be unaware of this option.
The NUS recommended the government ban letting agent fees across the UK to ensure students have a better idea of overall cost. It also advised letting and managing agents be properly regulated or licensed to ensure students and other tenants are afforded protection from poor practice.
Campbell Robb, Shelter's chief executive said: "No one should be forced to live in a home that is a danger to their health and wellbeing - so these findings are shocking.
"We hear from young people every day living in unsafe rented homes, dealing with rogue landlords, struggling to pay sky-high rents, or paying out hundreds in unfair letting fees.
"This can't carry on. The government must do more to improve our broken rental market, and make sure that every landlord provides the safe and decent home that we all deserve."
Housing minister Kris Hopkins said: "Students, like any tenants, have a right to live in housing that is safe and habitable.
That's why we have given councils £4m to tackle the small minority of rogue landlords, and will be requiring letting agents to belong to redress schemes, so students will have somewhere to complain if they get a poor deal.
"However, we need to get the balance right, as excessive regulation would simply force up student rents and mean less choice for students.
"The Government has also supported the provision of new purpose-built student accommodation through the New Homes Bonus and supportive planning guidance."