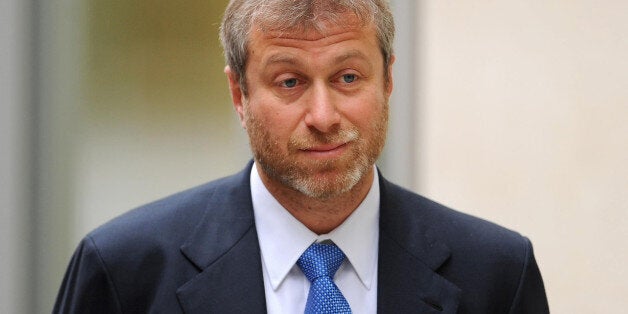 On Friday afternoon the prime minister warned Russia it faces international isolation and tighter sanctions unless Vladimir Putin takes steps to de-escalate the crisis in Ukraine.
He said the European Union had agreed a range of measures in response to Moscow's intervention in Crimea including trade restrictions on the "occupied" peninsula.
The EU has also expand its blacklist of Russian officials and politicians subject to travel bans and asset freezes by 12 names to reach a total of 33.
Asked by reporters during a press conference in Brussels whether he would consider adding Russian oligarchs, including Abramovich, to the sanctions list, Cameron said: "We certainly haven't ruled anyone out from this approach."
"The EU approach, and the way it works under the laws that we have, is that you need to target people who have a direct relationship with the action that has been taken," he said.
Alexei Navalny, a leading Putin critic, told the New York Times that Europe should target sanctions at the Russian president's "inner circle", including Abramovich, who he described as "the Kremlin mafia who pillage the nation's wealth".
The 12 individuals added to the EU blacklist include deputy prime minister Dmitry Rogozin, Putin's adviser Sergey Glazyev and aide Vladislav Surkov, the Speakers of Moscow's lower and upper parliamentary houses Sergei Naryshkin and Valentina Matviyenko, and Russian MP Elena Mizulina, who sponsored proposals to allow regions to join Russia without the agreement of their national authorities.
EU leaders have agreed to bring forward by several months the signing of association agreements with both Georgia and Moldova amid concerns over the potential for Ukraine-like situations to occur elsewhere in the region.
The summit conclusions said the EU was committed to "further strengthen the political association and economic integration with Georgia and the Republic of Moldova".
"We confirm our aim to sign the association agreements, including the deep and comprehensive free trade areas, which we initialled in Vilnius last November, no later than June 2014," Cameron said. "That was a change we made last night and I think that is a very positive signal,:
"If this can happen in Ukraine, then we have to be very clear about how unacceptable it is because otherwise we will face similar situations in similar countries with a similar sort of unacceptable behaviour."