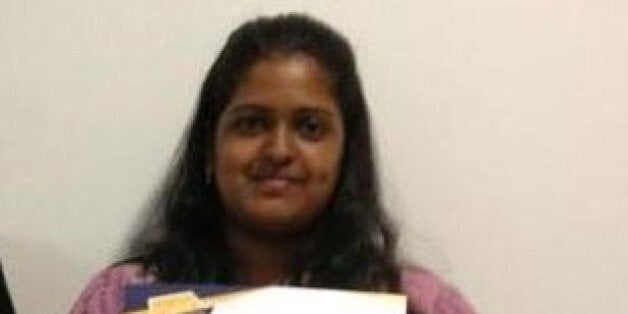 A bright student who has been offered places at Russell Group universities faces being deported to her native Mauritius without her family, despite fearing for her life.
Yashika Bageerathi, 19, fled Mauritius with her mother and brother in 2012 to escape a relative who had been physically abusing her.
The student is currently being held in detention at Yarl's Wood Immigration Removal Centre, Bedfordshire, after her appeal to stay in the UK was rejected. A campaign has been launched by her school in Enfield to keep her in the country, while her headteacher even put up the money to get her released on bail.
Due to her age, she is considered an adult and her case is considered separately from her family.
She told ITV's Daybreak: "I'm very frightened because I'm all alone and I have no-one. My life is in danger there, Mauritius is no longer the paradise island that it used to be."
The teenager was first detained at Yarl's Wood in December but bailed 42 days later after her headteacher, Lynne Dawes, put money up for her release. However she was detained for a second time last Wednesday following the refusal of her application.
Ms Dawes, headteacher of Oasis Hadley Academy in Enfield, said the teenager was a "law-abiding citizen".
She added: "She's a fantastic student, a role model and she works incredibly hard. She's predicted A grades this summer and has offers from Russell Group universities."
The headteacher praised Ms Bageerathi's selflessness: "She does one-to-one maths tuition in her spare time and she wants to be a maths teacher. She is willing to do anything and on a wider front, she acts an ambassador for the academy."
Ms Dawes added solicitors were working to get a high court injunction to stop the teenager being sent back and she was hopeful the support of Ms Bageerathi's MP would help as well after he told the headteacher he would speak to the Home Office.
David Burrowes, MP for Enfield Southgate, where Yashika Bageerathi lives and attends school, previously gave his support to the campaign to stop her being deported as early as Tuesday.
Mr Burrowes said on Twitter: "I am making representations to Home Office Minister today in #FightForYashika I hope common sense and compassion will prevail."
The teenager's school and pupils have been protesting against the Home Office decision and on Sunday there was a protest outside the Home Office in central London with "hundreds of supporters," according to campaigners.
Students at the school have also garnered more than 17,000 signatures on a petition on change.org calling on support to allow the student "to return to her studies".
The petition said the actions towards the teenager are "against Article 8 of the Human Rights Act (respect for private and family life)" and that she will be forced to return to a country "where she has neither friends nor family".
The school stressed the "outstanding contribution to the life of the academy" Ms Bageerathi has made.
They said in a statement: "Not only is she an incredibly talented mathematician, she has spent considerable time helping to train, teach and coach younger students in the subject, transforming their learning experience. On top of all of this she has poured herself into voluntary activities, helping the academy to win a national award in recent months and is this week due to win an national award of her own."
A Home Office spokeswoman refused to comment on individual cases, but said: "The UK has a proud history of granting asylum to those who need it and we consider every application on its individual merits. We do not routinely comment on individual cases."
Popular in the Community