We didn't think it would take long for Helen Flanagan to respond to Luisa Zissman's offer of a mud-wrestle and sure enough, the former 'Coronation Street' actress has taken the 'Apprentice' star up on it.
In an interview with this week's Zoo magazine, Luisa said she'd love to get down and dirty with Helen, saying: "I would be bang up for a mud-wrestling shoot with Helen. She is hot, with a great pair of real knockers."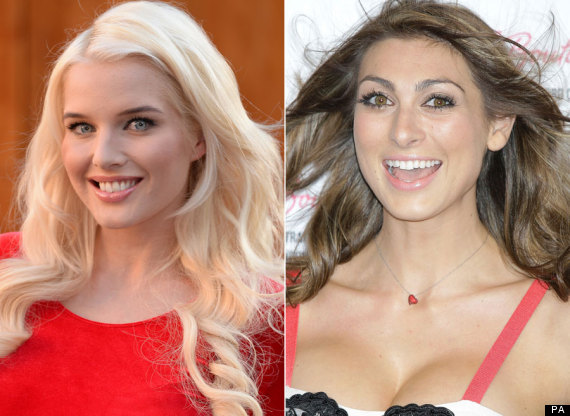 Helen Flanagan and Luisa Zissman
Fast forward a few hours and Helen took to Twitter to tell Luisa that one person in particular was looking forward to them both getting mucky - her boyfriend, footballer Scott Sinclair.
We bet he is.
@TheLuluLife Scott's looking forward to the mud wrestle 😂

— Helen Flanagan (@helenflanagan1) March 25, 2014
To which Luisa replied:
"@helenflanagan1: @TheLuluLife Scott's looking forward to the mud wrestle 😂" Hahahaha brilliant we best start working out #muscles&mud

— Luisa Zissman (@TheLuluLife) March 25, 2014
Well it definitely looks like Helen and Luisa have finally buried the hatchet after the 'Corrie' actress branded Luisa 'unladylike' earlier this year, which led to the 'Celebrity Big Brother' star offering to have a boob off with her.
Boob-offs, mud-wrestling, where will this all end?
LIKE US ON FACEBOOK | FOLLOW US ON TWITTER