The size of Max Clifford's penis has "caught out" witness who say the PR guru molested them, with women describing his member as "freakishly small" or "enormous", when it is, in fact, a normal size, Clifford's defence barrister has argued.
The defence opening could not have been comfortable for Clifford, even for a man on 11 counts of indecent assault.
"The evidence has established that Mr Clifford has an average sized penis," Clifford's barrister, Richard Horwell QC, told the jury at Southwark Crown Court. "His doctor has recently measured his penis.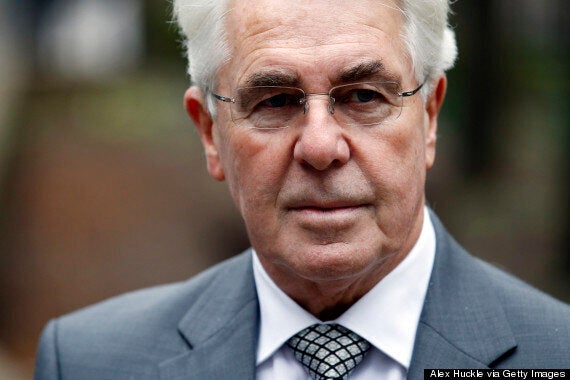 Max Clifford arrives at Southwark Crown Court for his trial
"When flaccid, it is five and a quarter inches long - certainly not freakishly small, certainly not enormous.
"Not one of the witnesses can be relied upon in this regard. It is the details that have caught out the witnesses."
"'Why should these women lie?' That was a question repeated to you on a number of occasions, as if that point alone was capable of proving the case. The reality is very different," said Horwell.
Clifford's offices were not his "sexual fiefdom" Horwell said.
Clifford insisted he did "not have that attitude. I have never been masochistic or sadistic. To me, sex is enjoyable, it's lovely and the more the partner enjoys it, the more I enjoy it. It's a pride thing.:
He admitted that he had enjoyed a "slap and tickle" in his office but said he had never approached underage women.
"I may have had oral sex but never sexual intercourse," Clifford said, adding that the "floor was too hard".
"It was a different era in the promiscuous swinging 60s and 70s, but because it was a different era doesn't mean to say I had to mislead women to have sex with me," Clifford told police. "This is obviously a long time ago. As to whether it was acceptable or not, I do think the 60s, 70s and 80s, things were different, what was kind of seen as almost normal, today would be very different."
Clifford said he has always been "careful", and had not needed to "persuade, cajole or promise" anyone into have sex with him, or used a "casting couch", promoting women who gave him sexual favours.
Clifford said it was an "utterly repulsive" accusation that he had abused a 12-year-old girl in Spain, while the pair were in a hot tub.
"I know in my experience of PR that people play games to make money. I have nothing to hide and nothing to be ashamed of," he said.
Celebrities are believed to be some of the witnesses due to appear at the trial in the coming days, as character references to Clifford.