Max Clifford allegedly asked a 19-year-old model to look at his "tiny" penis during a film audition in his office, a court has heard.
The PR guru thought he was "untouchable" and used his celebrity connections to "bully and manipulate" girls and women into sex acts over a 20-year period, Southwark Crown Court heard on Thursday.
Clifford is said to have told a 19-year-old: "Look at my penis. Isn't it tiny? What can I do with this?".
TOP STORIES TODAY
Opening the prosecution case at his trial in Southwark Crown Court in London, Rosina Cottage QC told jurors that the 70-year-old "knows how to manipulate, lie and get what he wants".
Clifford is accused of 11 counts of indecent assault relating to seven alleged victims between 1966 and 1984, which he denies.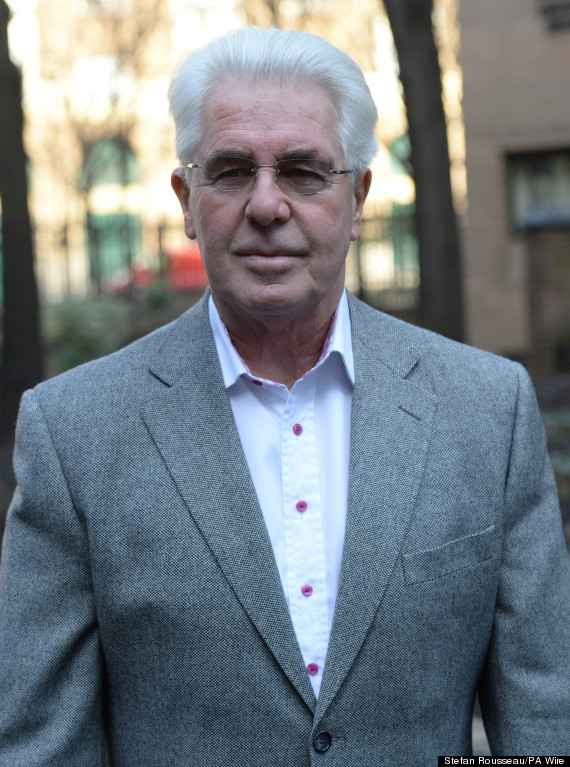 Max Clifford is accused to 11 counts of indecent assault, which he denies
As the prosecutor outlined the charges to the court, the jury heard that one related to an occasion when Clifford allegedly forced himself on a girl, who was 14 at the time, when they were in a car.
In another allegation, he was said to have indecently assaulted an 18-year-old.
A third charge alleged that Clifford forced a 15-year-old to masturbate him in a car, while several other assaults were also said to have happened in cars on other occasions.
Ms Cottage told the jury of six women and six men: "This case concerns sexual assaults upon children and young people over a 20-year period. The defendant used his contact with famous people to bully and manipulate these young people into sexual acts with him.
Clifford, wearing a grey blazer with a white shirt and dark trousers, listened to proceedings from the glass-walled dock using a hearing loop.
The prosecutor added: "Many of you, but not all of you, will have heard of the name Max Clifford. He is wealthy, he is well connected.
"He is the maker of the kiss-and-tell celebrity and the breaker of reputations. He is the man called upon by television to speak about celebrity and media manipulation.
"He has been at the top of the media game for many years. He knows the strings to pull. He knows how to manipulate, lie and get what he wants.:
But Ms Cottage told the court that after the Jimmy Savile scandal hit the headlines in 2012, Clifford's alleged victims began to come forward.
She said the case, which is due to last around six weeks, will hear not only from women to whom the charges relate, but other women who would give evidence of the PR guru's "sexually predatory behaviour".
The prosecutor said: "These women were vulnerable to the attentions of a man experienced in taking sexual advantage of their naivety and their willingness to please.
"His office was his own sexual fiefdom.
"He toyed with their inexperience and treated them with contempt. And we say he continues to do so by denying their allegations."
Ms Cottage said Clifford, who listened intently from the dock, denied knowing any of the women, but if he had met them, nothing they described would have happened.
The 70-year-old has had sexual encounters with "many women", the court heard, but claimed they were all consensual.
One alleged victim said she was 19 when Clifford forced himself on her in a taxi, touching her breasts, while another - who was also said to have been 19 at the time - said he assaulted her in his office, trying to kiss her and forcing her on to a sofa where he pressed his body on to her.
One of the alleged victims claimed she met Clifford while on holiday in Spain in 1977, when he told her parents he could get her modelling work.
When she returned to the UK, it is alleged Clifford called her, pretending to be Terry Miller.
Ms Cottage said: "Either the defendant himself or someone he had asked made this call to reel her in."
The teenager, who was described to the jury as "a quiet, shy girl", claimed Clifford made her take her top and bra off during an appointment at his Bond Street office.
It is alleged he impressed her parents with name-dropping, saying he would play squash with Tommy Steele, and abused the girl in his car.
Ms Cottage said Clifford also pretended he had told actress Julie Christie about the girl, and that she had told him to take the alleged victim's virginity because "then she would be loyal to him forever".
The jury heard that she was told to perform sex acts on Clifford, and that he had a photograph of her giving him oral sex.
Clifford shook his head as the claims were read out.
Ms Cottage said: "She wanted to kill herself and he never saw her again.
"She felt dirty and stupid and did not tell her family and did not want to go to the police as she did not want her parents to feel guilty about what had happened."
Explaining why the complainants had not reported the alleged assaults at the time, the prosecutor told the court: "The 1960s, the 1970s and the '80s were very different times from today.
"There was no social media. Secretaries had to bite their lips when the boss patted their bottom and told them to 'run along, love, and make me a cup of tea'.
"A complaint would have earned them ridicule and the sack.