A Japanese prisoner who has been in solitary confinement on death row for more than four decades will now have a retrial to address deep irregularities in his convictions.
Hakamada Iwao, 78, was sentenced to death in 1968 and is believed to be the longest-serving death row inmate in the world. He was convicted of the brutal murder of his boss, his boss's wife and their two children.
Shizuoka District Court granted his latest request for a retrial at a hearing on Thursday morning, and Hakamada has now been released, with prosecutors given four days to appeal.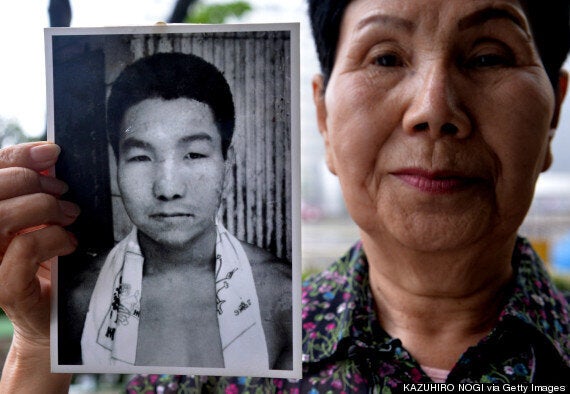 Hideko Hakamada, sister of Iwao Hakamada, with a picture of her brother in his youth
Hakamada, a former professional boxer confessed to the killings in 1966, after 20 days of interrogation by police.
He retracted the confession during the trial, saying he had been beaten and threatened by police. In 2007 Norimichi Kumamoto, one of the three judges that originally convicted Hakamada, came out in his support testifying that he had always believed his innocence, but had failed to persuade his two older colleagues at the time, resulting in the split judgement being upheld.
Recent forensic tests have also shown no match between Hakamada's DNA and samples taken from clothing the prosecution alleges was worn by the murderer, according to his lawyers.
Human rights groups have called on Japanese prosecutors not to contest the retrial.
Roseann Rife, East Asia Research Director at Amnesty International, said: "The Japanese authorities should be ashamed of the barbaric treatment Hakamada has received.
"For more than 45 years he has lived under the constant fear of execution, never knowing from one day to the next if he is going to be put to death. This adds psychological torture to an already cruel and inhumane punishment.
"It would be most callous and unfair of prosecutors to appeal the court's decision. Time is running out for Hakamada to receive the fair trial he was denied more than four decades ago.
"If ever there was a case that merits a retrial, this is it. Hakamada was convicted on the basis of a forced confession and there remain unanswered questions over recent DNA evidence."
His retrial comes the day Amnesty released the global statistics on the use of capital punishment. At least 778 executions were carried out across the world in 2013, a sharp spike from 2012.
The countries with the highest number of executions were Iran, Iraq, North Korea, Saudi Arabia, USA and Somalia. China executed more people than the rest of the world put together.