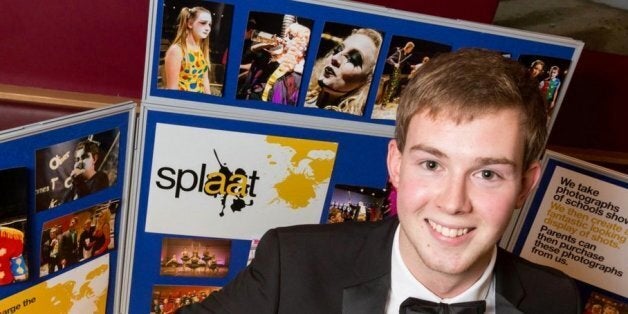 For many young and budding entrepreneurs, university can offer an invaluable support service - financially, emotionally and professionally.
That's why, if your business is your passion, it is so important to choose the right institution which can offer you the right mentoring and help.
Greg McClarnon, a 20-year-old business studies student at Hertfordshire University, is the founder of Splaat Media, a company providing show photography to schools across the south.
"I'm currently running my own business full-time during my placement year," he says. "I started the business in 2010 while in sixth form after I took photographs of my secondary school show - I found that there was a strong demand from parents to take away a photograph of their child performing.
"I go into schools free of charge and we take photographs during dress rehearsals to create displays of these images for audiences to browse on the nights of the shows. Parents then have the opportunity to purchase these photographs. This year we'll be working with over 600 schools."
Greg gave us his top tips on how to choose the university which is right for you.
Choosing your university:
• When looking at universities, take a look at the opportunities that they offer outside of your course
• Think about what you want to get out of university. For me it was how to best build my business at the University of Hertfordshire enabled me to do this, as it offered the best support. For example, the Incubation Centre, Herts Entrepreneurs enterprise society, free office space, business competitions and workshops
• So if you want to get into radio, look up the student radio; if you want to get into sports, look up the sports facilities
• Also, speak to people. I spoke to a member of the enterprise society, which gave me a great insight and I was informed of the great opportunities
• For me, I knew I wanted to study business so the University of Hertfordshire was the best choice being business focused. Later on in my course, I can specialise in an area of business, as well as having gained a general business overview.
• Get a good overview of the course first and go on an open day and speak to people about your choice!
And lastly, what's your top tip for starting your own business?
"As advice, if you've got a business idea it is important to test your idea works in the early days. Then get yourself a logo, business cards and a website and start to earn some money. If you find that it's working, then look at writing aims and objectives, separate business banking, book keeping etc. Creating a website really helps you to lay your product or service out and make it clear what you're doing.
"You need to be determined and motivated if you're going to succeed. If you've got an idea and you're motivated to be successful - just do it!"