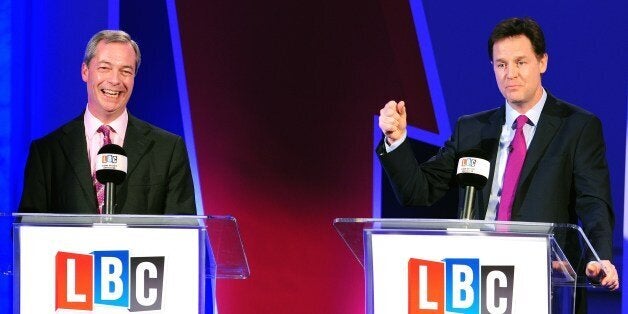 Here are the five things you need to know on Thursday 27 March 2014...
1) NICK VS NIGEL, THE MORNING AFTER
It was Chairman Mao who said that, in a counter-insurgency war, "the government loses by not winning but the guerilla wins by not losing". Yesterday evening in London, Ukip leader Nigel Farage, the premier political guerilla of our age, the self-styled political 'outsider', took on the deputy prime minister Nick Clegg in a live debate on Europe and, by not being flattened, smashed or humiliated, won. Merely by standing his ground, by avoiding any major gaffes, by preventing Clegg from landing any killer blows, he emerged victorious from their LBC-hosted clash.
Farage was pretty sweaty and angry for most of the night and deployed some dodgy stats, but he managed to get through questions over his employment of his wife with EU funds and his position on gay marriage without tripping up. And, as Tory peer Lord Ashcroft noted on Twitter: "One reason @Nigel_Farage was a winner tonight irrespective of how the 2 performed was simply his exposure to a wide audience."
An instant YouGov poll of 1,000 voters straight after the debate found 57% of them thought that the Ukip leader performed best in the LBC debate while just 36% plumped for Clegg.
The deputy PM may be regretting his decision to have challenged Farage to this two-parter - and will be thinking hard about how he takes on Farage in the sequel on the BBC next Wednesday. As my colleague Ned Simons reports, Lib Dem party president Tim Farron told reporters in the 'spin room' afterwards that Clegg needs to be "bolder" in round 2.
The Telegraph's sketchwriter Michael Deacon thinks both party leaders will have gained from last night's debate:
"So who won? Possibly they both did. Mr Clegg spoke with far more selfassurance than when being barracked in the Commons; Mr Farage held his own. Both will have satisfied their respective followers. Whether they will have won any new ones is another question. Round two follows next week, on BBC Two. Will either of them have anything different left to say? A nation holds its breath."
Will last night's debate also prompt David Cameron and Ed Miliband to avoid having any leaders' debates in the general election... in order to avoid having to include Farage? A political and media class holds its breath...
2) THE WAR ON MIGRANTS, PART 78
Yesterday, much of the 'Europe' debate was actually a debate over immigration. Farage claimed that all migrants should be required to have a work permit and said it was mad to have an 'open door' to 500m Europeans. The Ukip leader will be delighted, therefore, to see the splash on the front of today's Times.
"David Cameron is facing Tory demands to expel jobless EU migrants after Germany signalled that it would adopt the radical measure. Allies of the Prime Minister said the German plan showed that Mr Cameron was winning support in his attempt to overhaul rules allowing migrants to move freely throughout Europe. However, there were suggestions that the move could also revive Tory infighting over immigration. Some of the party's MPs said that yesterday's draft proposals from a German government panel, under which EU migrants would be removed if they failed to find work within three months, should be adopted by Britain."
The paper adds: "Amid questions over whether expelling EU migrants would be legal, European Commission sources said that member states were entitled to refuse residency if a migrant was unemployed after three months and did not have the financial means to avoid being a burden on the host country."
3) 'BIG SIX' FACE BIG PROBE
Ed Miliband will be doing a little jig in his office this morning. Yesterday, energy supplier SSE said it planned to freeze domestic gas and electricity prices at their current levels until 2016 - a not dissimilar proposal to his own. This morning, the 'big six' energy suppliers face a competition inquiry - from the BBC:
"Regulators will investigate whether the 'big six' UK energy suppliers are preventing effective competition in the UK energy market. The investigation will be by the Competition and Markets Authority (CMA) and is expected to take 18 months... Last autumn the government ordered a review of competition in the energy retail sector following a public outcry over high prices. The big six - SSE, Scottish Power, Centrica, RWE Npower, E.On and EDF Energy - account for about 95% of the UK's energy supply market. But the Ofgem report does not accuse the major energy firms of colluding over prices. However, it does find 'possible tacit co-ordination' on the size and timing of price rises."
Who says you can't set the political agenda from opposition?
BECAUSE YOU'VE READ THIS FAR...
Watch this video of Arnold Schwarznegger hilariously trying to sell a food processor on a mock-QVC item on late-night US television.
4) 'NASTY PARTY' ON PRISONS
The Tories are the "nasty party" when it comes to running the prisons system, according to Labour's shadow justice secretary Sadiq Khan.
Khan is giving a big speech today on prison reform - the Independent reports:
"Companies that run struggling jails would have their contracts ripped up under Labour in an attempt to drive up prison standards. Sadiq Khan, the shadow Justice Secretary, will say today there should be 'zero tolerance' of substandard institutions that fail to tackle rates of reoffending. The party would put work, education and training at the heart of prison life, and successful governors would be given extra freedom to handle their budgets."
Writing for the PoliticsHome website ahead of his speech, Khan writes: "Gone are the compassionate Conservative days. Indeed all talk of work in prisons and a rehabilitation revolution have been quietly forgotten, replaced by a desire to pack as many prisoners as possible into 'super-sized' jails."
The one thing you could always say about Barack Obama: at least he opposed the Iraq war. Except yesterday, he tried to put a positive spin on it, in order to defend the US from the accusation of double standards. He didn't do a very good job - as my US colleage Ryan Grim reports for the Huffington Post:
"President Barack Obama defended the American invasion of Iraq Wednesday in a high-profile speech to address the Russian takeover of Crimea. Russian officials, Obama noted, have pointed to the U.S. invasion and occupation of Iraq as an example of 'Western hypocrisy.' Obama struggled, however, in his attempt to defend the legality of the invasion. The war was unsanctioned by the United Nations, and many experts assert it violated any standard reading of international law. But, argued Obama, at least the U.S. tried to make it legal. 'America sought to work within the international system... We did not claim or annex Iraq's territory. We did not grab its resources for our own gain,' Obama argued. In fact, the U.S. forced Iraq to privatize its oil industry, which had previously been under the control of the state, and further required that it accept foreign ownership of the industry."
From the Sun/YouGov poll:
That would give Labour a majority of 18.
Rafael Behr, writing in the New Statesman, says: "Miliband can't rely on the Tories to keep hurting Cameron for him."
Suzanne Moore, writing in the Guardian, says: "I'm all for 'weird' Ed Miliband if it means a genuine alternative."
Benedict Brogan, writing in the Telegraph, says: "Nigel Farage shows David Cameron how he might lose by standing on the sidelines."
Got something you want to share? Please send any stories/tips/quotes/pix/plugs/gossip to Mehdi Hasan (mehdi.hasan@huffingtonpost.com) or Ned Simons (ned.simons@huffingtonpost.com). You can also follow us on Twitter: @mehdirhasan, @nedsimons and @huffpostukpol