Things get a little heated between 'EastEnders' pals Lauren Branning (Jacqueline Jossa) and Lucy Beale (Hetti Bywater) in tonight's episode, 28 March 2014, when the pair struggle to get their business off the ground.
Despite finally securing cash to start their business, the pair will disagree tonight over Lucy's use of the cash.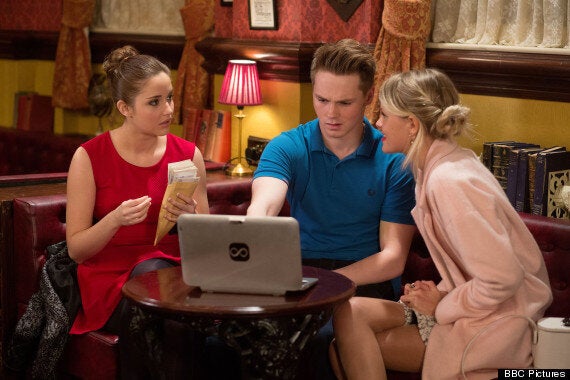 Lauren and Lucy disagree over whether to employ Jake
When Lucy decides to get Jake to build their website, Lauren throws something of a diva strop, refusing to work with her pal.
Could this be the start of a serious rift for the pair?
Lauren has already been named as one of the key suspects when Lucy is murdered later this year and actress Jacqueline has even said she hopes her character plays a part in Lucy's downfall.
"Everyone keeps saying I'm the favourite to kill Lucy but no one has a clue," she told The Sun.
"I've been looking at all the scripts trying to get clues. But there are so many.
But then you think, 'Oh no it can't be them', so I've got no idea. The writers aren't letting anything out of the bag."
Tonight's episode also sees things heat up between Ian Beale and ex-wife Jane when the businessman totally misjudges things and lunges in for a kiss.
Watch 'EastEnders' tonight (Friday 28 March) to see the events unfold.