Following Arsenal and Manchester United's anti-climactic goalless draw in February, members of the media assembled in the press conference room, and naturally complained about wasted journeys, Arsène Wenger and David Moyes' anodyne approaches and the dismal draw itself. By the time they had swapped their seats in the press box for the press room, Liverpool, trailing 2-1 the last time most checked, had won a penalty at Fulham to win it late on. Steven Gerrard scored.
"Fucking hell, and Liverpool are going to win the league," lamented one writer. "For fuck's sake," was a popular opinion aired, too, as well as a simple "Fuck." Arsenal-United is unlikely to be covered by many Liverpudlians, let alone Liverpool-supporting journalists, so the reaction was a relatively reliable gauge of the consensus neutrals want to see Liverpool end their 24-year title drought.
It is wrong to spontaneously assume the media is biased against Liverpool. Scousers love their deluded conspiracies, most recently when one blinkered Twitter account suggested Luis Suárez's inability to recognise he racially abused Patrice Evra (again) was down to the media "publicising" the interview. Writers are balanced and professional when necessary.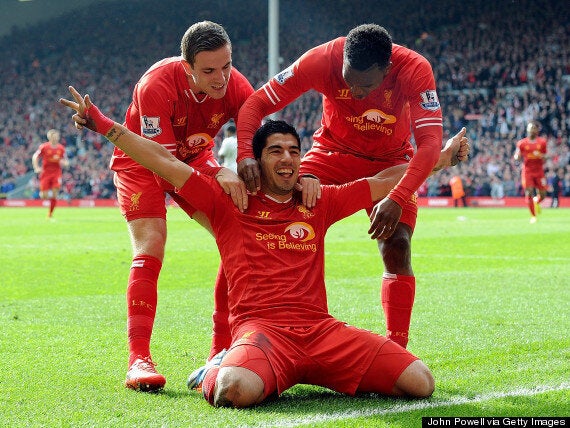 Suárez scored Liverpool's second against a terrible Tottenham team
On the final day of the campaign, Liverpool will host Newcastle, their visitors for the most over-hyped match in Sky's English football history. The scene is set for them to appropriately collect their Premier League crown on that day of all days, as Steven Gerrard finally gets his hands on the one trophy that has eluded him throughout his club career, the crowd proclaim their team are back on their perch and Jamie Carragher is invited onto the pitch to hoist the trophy in front of the Kop. It is as nightmarish a scenario as the ones the children of Elm Street suffered for some opposition supporters.
There is much to admire about Liverpool. Their first XI include just one signing from the last 12 months, they are aggressive with and without the ball and possess such mental strength they used their conflicted striker's attitude to their advantage. Suárez will, deservedly, dominate football's awards season thanks to his world-class form and improved behaviour.
And yet it is debatable "neutrals" want them to win the league. Supporters of clubs ranging from Manchester United to Everton to Chelsea to Nottingham Forest to Juventus have beefs with Liverpool. However, supporters of "rival" teams, such as Arsenal, would have preferred to see Liverpool win the league during their last serious challenge in 2009. Sections of Manchester City's support have also displayed Scouse solidarity in the past.
Type "neutral" and "Liverpool" into Twitter and the feedback is hardly reliable. "Neutral" is one of the most contested words in the football lexicon and too many fans do not fully understand, or appreciate, its specifics. A United fan or Everton fan would qualify as a neutral watching Liverpool. Neutral is where "fan" and "supporter" cease to be synonymous with each other. Whatever your allegiances, your following is strongly defined by who and how you hate, too.
"Nobody wants the same teams to be winning it over and over again," Glen Johnson recently opined. In that respect, he is true, unless you are a United fan. "I guess the neutrals will be packing a punch for us. We must be good to watch. People watch football to enjoy themselves, see goals and see exciting football and I think we do provide that. I think people will be rooting for us because it will be something different."
Liverpool are undeniably good to watch, if you are a purist, but "rooting" sounds extreme. Do fans miss their own teams so they can watch Liverpool instead and "root" for them? It seems unlikely, whether you are at the ground or watching online. There are so many ex-Liverpool footballers masquerading as pundits it is unsurprising several now regard the team as the nation's darlings.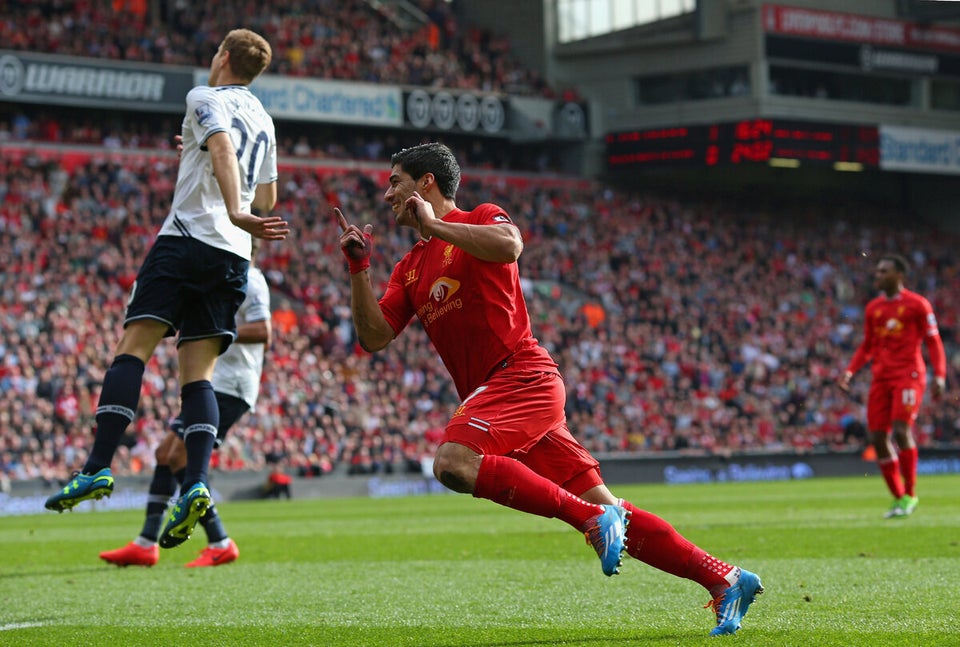 Perhaps the most risible reason offered for their Neutral FC billing is that Steven Gerrard is yet to win a championship winner's medal, so he deserves one on that basis alone. A journalist described the England captain as a "national treasure" last week and was quickly told otherwise. Gerrard doesn't come close to uniting the divide like Paul Scholes did, and has benefited from generous coverage; at times, it feels his flirtation with Chelsea in 2005 has been airbrushed from history.
Jamie Redknapp offered a cogent argument, however. The former Reds midfielder believes a Liverpool championship success "would be great for English football full stop. They play such fantastic football with a British manager and Sunday had six Englishmen in their starting XI." Rodgers is the outstanding British coach in a time when homegrown managers are stuck between Charles Hughes and Mark Hughes, or are Mark Hughes, while Roy Hodgson appeared to inherit the Liverpool blueprint for England's friendly with Denmark. The national team enthusiasts will name their newborn son Raheem, Jordan, Daniel or Stevie if England reach the semi-finals in Brazil.
Mawkishly, some have suggested a Liverpool championship would be a fitting tribute to the 96 supporters who died at Hillsborough. The timing of the inquiry, in the year of the disaster's 25th anniversary, appears to have intensified Liverpool's title tilt. It is cheap and coarse of those who have used the memories of the dead to drum up support, though.
Ultimately, like a Today Radio debate, there is no clear-cut answer. But Rodgers will continue to make Liverpool's followers dream, while Mancunians and Evertonians barely get a wink