Last week we brought you the horrific news of a giant, 16-inch rat which chewed through a concrete wall and "terrorised" a family in Stockholm.
Now we bring you the unsettling revelation of a similarly-sized beast on these very shores.
Adrian Whitaker came face-to-face with the rodent in his Highgate kitchen after hearing the "snap" of a mousetrap underneath his dishwasher.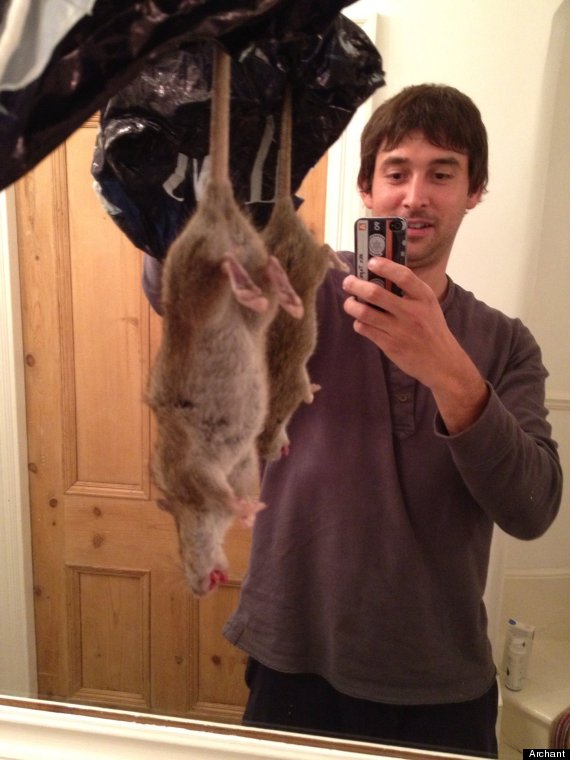 Adrian Whitaker proudly displays his catch
He told the Ham and High: "My wife was beside me and I said: 'I don't think you want to see this.' I think my caveman instincts kicked in and I thought 'I've got to get this out'."
The rat was left dazed by the mousetrap, enabling Whitaker to remove it from the house.
He added: "I picked it up with a bag and frogmarched it out of the front door with my wife screaming behind me.
SEE ALSO:
"I then took some firewood to it and it took a few hits to kill it. It's the first time I've killed anything so I felt a bit of guilt after."
While there is no official word on the size of Whitaker's rat, the image shows the animal's body alone measures the length of the 6ft 3 software developer's forearm.
As with this animal, the Swedish ratzilla was also snared by a mousetrap and clung onto life before noisily dying beneath a kitchen cabinet.
"It was a monster, the worst thing I have ever seen," Signe Bengtsson-Korsas told The Sun.