SEE ALSO: Crouching Gazelles, Hidden Cheetah. There Is A Big Cat In This Image, Promise (PICTURES)
On first sight it looks like a dingy mountain range that will have you buttoning up your cardigan and reaching for the thermostat.
But a closer inspection reveals… a pair of snow leopards.
Can you see them? Lean in a bit closer…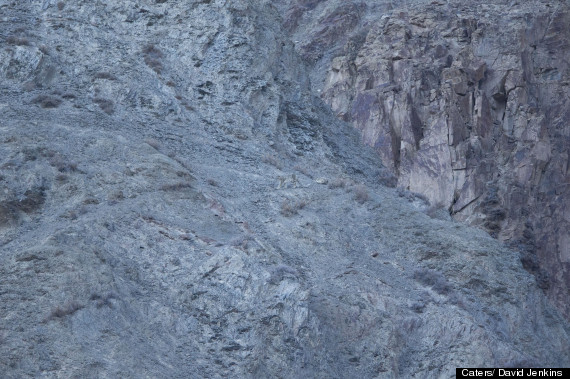 Spot the snow leopards: Can you see them?
The endangered big cats were photographed picking their way delicately across the face of a mountain face in the Indian Himalayas by wildlife photographer David Jenkins.
Jenkins braved temperatures of over -20 degrees in his attempts to get a glimpse of the elusive beasts.
SEE ALSO: Can You Spot Fantastic Mr Arctic Fox? (PICTURE)
Jenkins, who has photographed polar bears, great white sharks and other predators over a 20 year career, said: "The snow leopard was incredibly hard to spot, it the most difficult animal I have ever tried to photograph.
"It has perfect camouflage and lives in such difficult terrain that simply walking around and staying warm is challenging for humans.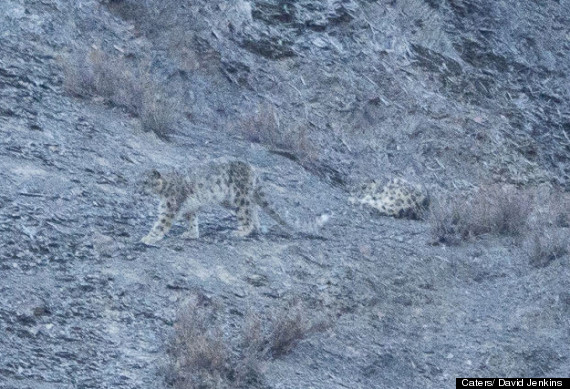 No luck? Let's lean in a bit closer...
"They are also rare, endangered and are often extremely shy of people.
"We only came across the leopard because a local boy was walking through the valley and noticed some sheep running away.
"One of the sheep had blood on it and it turned out the herd were being chased by a snow leopard."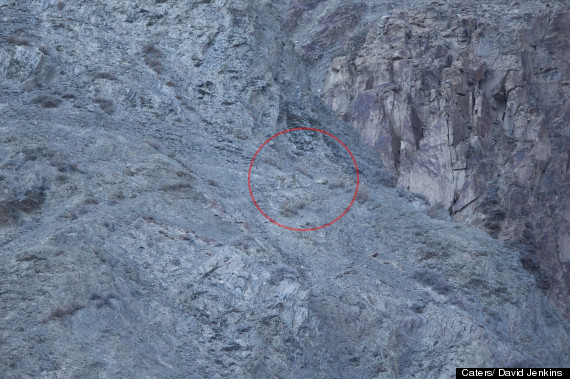 Blimey, still no luck? Here they are with a big red circle around them
The total population of snow leopards is estimated at less than 2,500 adults worldwide, WWF writes.
They typically live at elevations of around 3,000-4,500m in arid and semi-arid shrubland and grassland across Afghanistan, Bhutan, China, India, Kazakhstan, Kyrgyz Republic, Mongolia, Nepal, Pakistan, Russia, Tajikistan, and Uzbekistan.