'New Worlds' starring Jamie Dornan made its TV debut on Channel 4 on Tuesday night.
The four-part Transatlantic series, billed as a "gripping historical drama set in the turbulent 1680s", sees Jamie take on the role of Abe Goffe, a fugitive who, in last night's dramatic episode, was seen fleeing into the wilderness after breaking into the home of Beth (Freya Mavor), daughter of the Countess of Seacourt.
'New Worlds' acts a sequel to 'The Devil's Whore', which aired in 2008 and starred John Simm and Dominic West.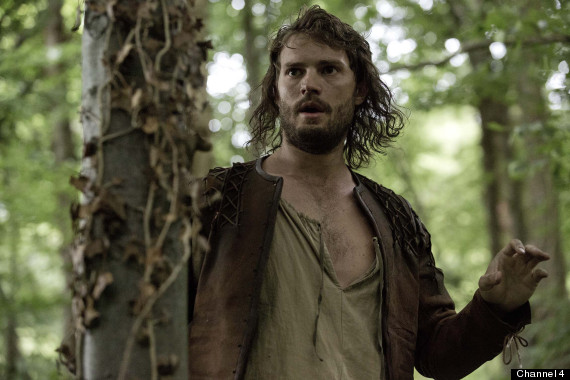 Jamie Dornan as Abe Goffe in 'New Worlds'
Jamie previously revealed to The Sun that, to prepare for their sex scenes in the drama, he and co-star Joe Dempsie - best known for his performances in 'Skins' and 'This Is England '86' - used to watch box sets of the sitcom 'Sex and the City'.
MORE: Who IS Jamie Dornan? We Look At His Life So Far...
Last year it was announced he was playing the leading role in the forthcoming film adaptation of the erotic fiction novel 'Fifty Shades of Grey', though fans of the series have a long wait until they see can see Jamie as tycoon Christian Grey - the film isn't scheduled for release until Valentine's Day 2015.
If you can't wait till then for some more Jamie Dornan action (and, frankly, we can't either), a new series of 'The Fall' is currently in production, which sees him playing serial killer Paul Spector. He's also starring opposite Anthony Head in the film 'Flying Home'.
The next episode of 'New Worlds' will air on Tuesday, 8 April at 9pm on Channel 4.
LIKE US ON FACEBOOK | FOLLOW US ON TWITTER