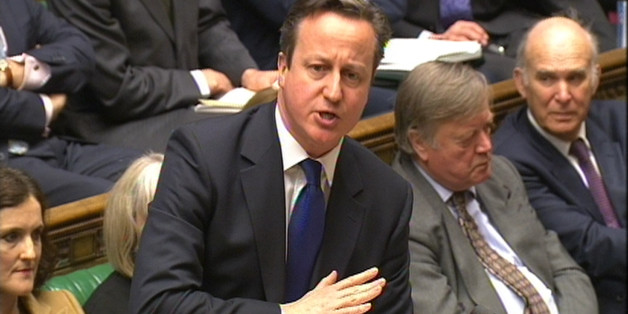 PA/PA Wire
Under pressure over the government's handling of the Royal Mail sell-off, David Cameron told MPs today that Labour had also made a manifesto commitment to privatise the company. Unfortunately for the prime minister that does not appear to be true.
Labour's 2010 manifesto read:
"The Post Office has an invaluable role to play in our communities and in serving local businesses. The universal postal service delivered by the Royal Mail connects and binds us together as a country. We are firmly committed to the 28 million homes and businesses across the country receiving mail six days a week, with the promise that one price goes everywhere.

"The Royal Mail and its staff are taking welcome and needed steps to modernise work practices. For the future, continuing modernisation and investment will be needed by the Royal Mail in the public sector."
In combative exchanges during prime minister's questions today, Cameron dismissed Ed Miliband's claim that "nobody wanted" the Royal Mail to be sold off. The prime minister told him: "It was in your manifesto! It was a commitment of the last government."
"The truth is this. You sat in a Cabinet that wanted to privatise the Royal Mail, they couldn't do it... because the trade unions won't let them," he told the Labour leader.
Cameron made the comments after being accused by Miliband of having taken the Royal Mail and "flogged it off to his friends in the City" in a sale that lost the taxpayer money. "The taxpayer... got £1.4 billion less for this valuable asset than it is worth today," he said.
"A third of the shares were sold to just 16 city investors. And get this - there was a gentleman's agreement those city investors wouldn't sell the shares. What happened? Within weeks half of those shares had been sold and they made a killing worth hundreds of millions of pounds. In other words mates rates to your friends in the city."
SEE ALSO: Cable 'Foolish' Over Royal Mail Sale Process, Warns Tory MP
The last labour government did attempt to part-privatise the Royal Mail, despite it not being a manifesto commitment, but the then business secretary, Lord Mandelson, had his plan thwarted by, among others, Labour backbenchers.
Labour's 2005 manifesto had similar language:
As we said in our policy document Britain is Working, we have given the Royal Mail greater commercial freedom and have no plans to privatise it. Our ambition is to see a publicly owned Royal Mail fully restored to good health, providing customers with an excellent service and its employees with rewarding employment.