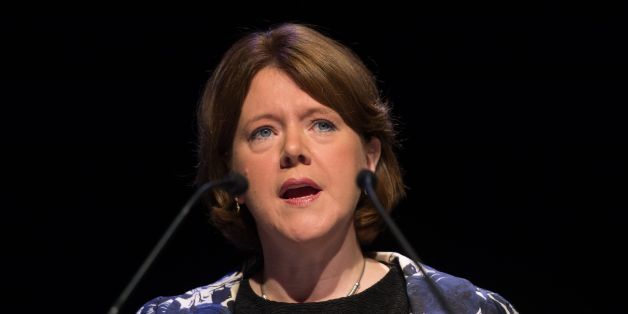 Stefan Rousseau/PA Wire
Here are the five things you need to know on Friday 4 April 2014...
1) HOW DO YOU SOLVE A PROBLEM LIKE MARIA?
Is Maria Miller, the culture secretary, on her way out of the Cabinet at the next reshuffle? How long can she cling on to her top-table post? Yesterday, Miller was ordered by the Commons Committee on Standards to repay £5,800, to cover her over-claiming of mortgage expenses, and to apologise to MPs - which she said she did "fully" and "unreservedly".
But she didn't resign. She didn't get sacked. She got a slap on the wrist - and the backing of the PM. Yes, really. The papers are, rightly, outraged:
"Fury as expenses row minister clings to job" - the Times splash
"MPs conspire to save Miller" - the Telegraph splash
"This insult to parliament" is the Mail's headline, which reproduces Miller's 32-second, 72-word apology to the Commons in full and reminds us that the parliamentary standards commissioner "accused the minister of a deliberate attempt to thwart and 'discredit' her investigation. But MPs on the committee which determines sanctions against erring members decided Mrs Miller should repay just £5,800, prompting questions over whether they should continue to be allowed to 'mark their own homework'." (Funny how the Mail doesn't like MPs self-regulating but is happy for papers to self-regulate...anyways...)
The website Political Scrapbook reminds us that Miller's expenses abuse is "more than 100 times [the] value of benefit fraud per claimant". I guess this is further evidence that there is one rule for them, one rule for the rest of us; that we are most definitely not all in this together...
NOTE: I'll be away hunting down Easter eggs from this weekend onwards, so Ned Simons will be doing the Morning Memo from next Monday. There will be no Memo this coming Sunday morning.
2) DOWN WITH THE CORPORATIONS
I've done a big interview with Labour's deputy chair and shadow minister without portfolio Jon Trickett. He's a close Ed Miliband ally and adviser and the voice of the Labour left inside the shadow cabinet. I call him "the most influential Labour figure you've never heard of".
Trickett, among other things, accuses David Cameron of "an all-out assault on the neutrality of the civil service" and says the big trade unions "must accept that we make the political judgements and they make the industrial judgements".
He also makes clear that Labour's proposed ban on second jobs for MPs is aimed at the corporate sector: "We want to stop people from working for corporations, receiving money from corporations, as members of parliament."
He adds: "There will be some business people coming into parliament [for Labour] but, after they have become an MP, there will be a short transition at the end of which they will not be allowed to work for, or be a director of, a company. A choice has to be made by Labour as to whether we want parliament to be a reflection of the people whom we represent or be perceived as an instrument of the corporate sector."
That won't go down too well with his shadow cabinet colleague, Chuka Umunna, the shadow business secretary, who is trying to woo entrepreneurs and small businesspeople to join Labour and stand for parliament on behalf of the party.
The Institute of Directors' Simon Walker has told my HuffPost colleagues Asa Bennett and Ned Simons that implying MPs "who serve as directors are somehow likely to be doing the bidding of corporate interests is absurd. Conflicts of interest have no place in Parliament and transparency must be the watchword, but this kind of ill-thought-through proposal risks alienating MPs from the hundreds of thousands of small, medium-sized and family owned businesses who between them are working hard to get the UK back on track."
3) 'CASSANDRA' CABLE IS BACK
Remember how, in opposition, Vince Cable predicted the housing bubble and the financial crash? Well, now, the business secretary says the bubble is worse than it was before the crash. Uh-oh. From the Independent's splash:
"Home ownership has now become 'unaffordable' to people on middle incomes, Vince Cable admitted, as he warned that the bubble developing in the housing market could be more serious than during the last property crash. Amid growing tension between the Conservatives and Liberal Democrats over rising house prices, the Business Secretary told The Independent: 'The fundamental problem is a chronic imbalance between supply and demand. A recovering mortgage market is just fuelling demand again.' Mr Cable warned: 'A family on average income is nowhere near able to afford a house at the average price. Property has become much more unaffordable for people on middle incomes.' The Lib Dem minister said that, in the mid-1990s, the average house price was three times average earnings. Today, at roughly the same stage of the economic cycle, the ratio is about 5.5. It rose to more than six before the crash of 2007."
As usual, his Tory colleagues won't be too pleased with Cable's remarks...
BECAUSE YOU'VE READ THIS FAR...
Watch my 60-second, semi-serious round-up video of the week's top political stories, from Nick v Nigel, round 2, to Dave's love for Waitrose. #mehdisminute
4) IS ED MILIBAND SCARED OF NIGEL FARAGE?
From the Times:
"Nigel Farage should be excluded from pre-election TV debates, Ed Miliband said yesterday amid growing pressure on David Cameron to sign up to a format similar to the broadcast events of 2010... On a visit to The Guardian newspaper, Mr Miliband said: 'I think the format we had last time with parties that have representation in Parliament is a good format. In the end it is for the broadcasters to decide who they invite. They have got their own rules and they have got to follow their rules. I look forward to debating David Cameron. I am not that interested in Nigel Farage. I care about debating David Cameron.' He added: 'That is why we have said: we had the debate with three leaders last time, same format — three debates, three leaders — let's have that.'"
Meanwhile, the paper also reports that Miliband "is considering returning rail franchises to public ownership, the Labour leader confirmed yesterday, in a move that could mark a further move to the Left by the party... Speaking in Central London, Mr Miliband said: 'We are interested in innovative solutions when it comes to the railways. It has got to be affordable. That is definite. The experience of East Coast, which has been in public hands, has been a good experience.'"
5) GOOD LUCK, ED BALLS
Ed Balls is on the edge of his seat. The Times diary explains why:
"Nervous times for Ed Balls, who sat his Grade 3 piano exam yesterday and is waiting for the results. "The sight-reading was too hard," the Shadow Chancellor admits. His former colleagues aren't helping, either. Jacqui Smith sent him a tweet bragging that she got a merit when she sat Grade 3."
PUBLIC OPINION WATCH
From the Sun/YouGov poll:
Labour 38
Conservatives 32
Ukip 13
Lib Dems 10
That would give Labour a majority of 76.
900 WORDS OR MORE
Simon Jenkins, writing in the Guardian, says: Nigel Farage – a natural Tory on course to drive the Tories from power
Daniel Knowles, writing in the Times, says: "Britain's real problem: infrastructure, stupid."
And here's my latest column: "Why Does Nigel Farage Want Us to Follow the Lead of Countries That Are Smaller Than Bristol?"
Got something you want to share? Please send any stories/tips/quotes/pix/plugs/gossip to Mehdi Hasan (mehdi.hasan@huffingtonpost.com) or Ned Simons (ned.simons@huffingtonpost.com). You can also follow us on Twitter: @mehdirhasan, @nedsimons and @huffpostukpol