They say that the camera adds 10 pounds. But fear not weight conscious readers, now there's an app to help shed that excess weight at the mere click of a button.
SkinneePix costs $0.99 (£0.60) it may be the cheapest diet we've ever seen.
"SkinneePix makes your photos look good and helps you feel good. It's not complicated. No one needs to know. It's our little secret," the app's description reads.
(Story continues below)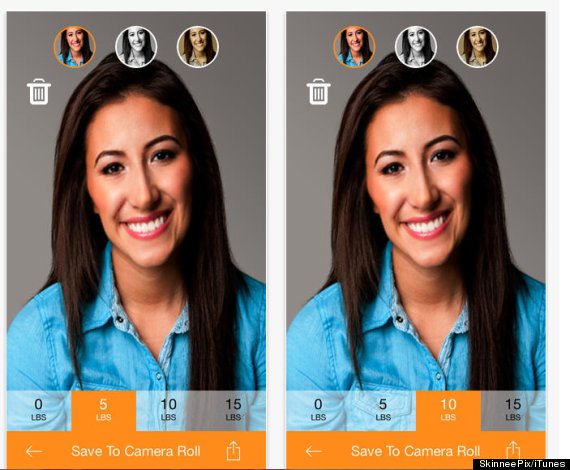 A preview of the iPhone app SkinneePix
But since its launch earlier this week, the app has received criticism far and wide. Many believe SkineePix is simply adding to women's body image anxiety.
Despite criticism, the app's co-founder Susan Green believes SkinneePix is helping women.
"What I've found in this is that women who are 100 pounds and women who are 250 pounds, everyone has some issue with their body," Green told HuffPost Women. "Some people are like well, you're messing with someone's image and you're trying to tell people they should be skinny. No, that's the exact opposite of what we're doing."
In fact, the app can help people lose weight as they can see attainable weight loss goals.
"The first time I saw myself in that app, I felt better seeing my face a little slimmer. It's not this huge change. When I saw it I remember thinking, 'Gosh, I feel better about this picture,' and that's only 15 pounds. If I can lose 15 pounds and look like that, " she said. "We're hearing now people are using it to motivate themselves to get healthy, that's how I'm using that now, because I can see something that's attainable."
What do you make of the app? Let us know in the comments below.