This photograph shows the moment a would-be intruder came face-to-face with one of the Queen's Guards at Buckingham Palace.
The incident occurred when the man began screaming at police officers as he walked towards the Palace gates on Friday evening, The Sun reported.
Witness Gareth Scanlan told the newspaper: "There was a lot of shouting before the guard went in with his bayonet – it was shocking.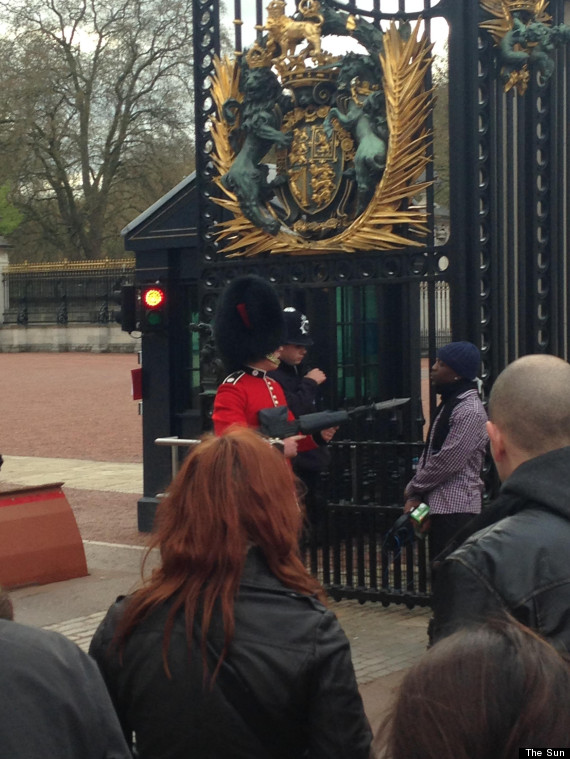 Tosin Odunaiya comes face-to-face with a Queen's Guard at the gates of Buckingham Palace on Friday evening
"The man said, 'Oh, you're a big boy now', and the guard – who I think was Scottish judging by his accent – said, 'Yes, I am a big boy.'
"Then the guard actually pushed the guy away."
A spokesman for The Met told HuffPost UK an armed police officer attended and confirmed: "The man was given words of advice but there were no arrests."
Meanwhile an MOD spokesman tells us: "We are aware of an incident outside Buckingham Palace on Friday and while no one came to any harm and there were no arrests, we are very clear that the Metropolitan Police lead on Royal Security arrangements including outside the Palace itself."
The man, who was later identified as Tosin Odunaiya, told the Sun it was his fifth attempt to gain entry to the palace.
SEE ALSO:
He explained: "I thought we lived in a free country. I was stunned that I couldn't speak directly with the Queen.
"I presumed the Royal Family would have welcomed me as their lost son with open arms. Now I know that's a lie.
"There's so much wrong in the world and the Queen has all the power to change it. I just wanted her to use her influence to sort it all out."