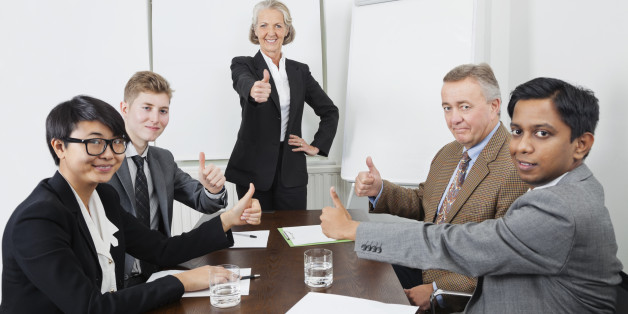 moodboard via Getty Images
Thinking about working for yourself? Well first off, you're going to need to hone your pitching skills.
Whether you're seeking money for your new business or you're trying to persuade a shop to stock your product (or even trying to persuade someone to hire you), 'pitching' is a vital skill to have.
Asking strangers for help, let alone money, can be a daunting prospect and like many things, success comes from planning and practice. The question is, how do you persuade people to believe in you? If you need to pitch to someone then read these five simple tips from NACUE which may just make it a success!
You Might Also Like.. This Is How To Build A Business From Your Bedroom

How To: Make The Most Of Job Fairs
Do your research
It may sound obvious, but so many people forget to do this! Find out as much as you can about who you're pitching to and try to understand what makes them tick. You should also be clear about exactly what you want from them (money, support, mentoring etc) and why.
Make it short and snappy
When it comes to business ideas, Richard Branson says "If it can't fit on the back of an envelope, it's rubbish". In the same way, your presentation should be sharp, accurate and to the point. It's all about communicating your vision clearly. Hone a five minute pitch down to one minute, and hone a one minute pitch down to 30 seconds! There will always be time for questions and small details later.
Identify the problem and the opportunity
What pain or cost are you trying to solve? Make the significance of the problem clear and prove that you are well placed to exploit this opportunity. Show that you understand the market and that you are the person (or people) to lead with the solution.
Be realistic
Drive, passion and belief are all fantastic qualities to bring to any pitch - but so is realism. Excite investors with your vision and its potential, but be reasonable and responsible. Make sure you're clear on all the details and risks as well.
Practice
Practice makes perfect! Practice in front of a mirror, in the shower, in front of friends and family and anywhere else you can. The more you practice the more confident you will be and confidence breeds success!
Don't be afraid to 'fail'
You'll make mistakes but that doesn't matter. As long as you learn from them you'll be better placed when the next opportunity arises.
Happy pitching, good luck, and make sure to check out our other career advice and tips at Skills Space.