José Mourinho's three years at Real Madrid manager were so fractious he accused players of treachery in his first season and instructed them not to win a Champions League semi-final at Barcelona, according to a new book.
Spanish journalist Diego Torres, who alleged Mourinho cried when he discovered Sir Alex Ferguson had anointed David Moyes as his successor at Manchester United, has documented a fraught dressing room at the Santiago Bernabéu stadium in The Special One: The Dark Side of Jose Mourinho.
On the eve of Madrid's intense Champions League semi-final first leg with Barcelona in 2011, Mourinho suspected players had leaked the line up of the side that faced Barça in a Primera Liga draw earlier that month. Madrid faced Barcelona four times within three weeks - once in the league, the Champions League semi-final legs and the Copa del Rey final - when Mourinho's influence took the Clásico rivalry to new heights and plunged it to new depths.
"Mourinho began to suspect that there were leaks in his organisation," Torres writes in extracts published by The Times. "The proximity of the Clásico ramped up his sense of suspicion. According to club sources, the growing fear of leaks made Mourinho ask the directors to set up a study of the phone records of players and club employees.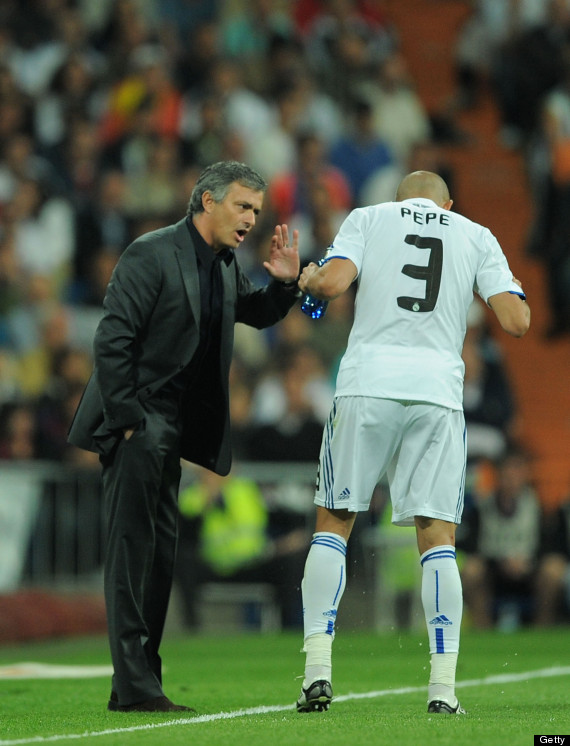 Mourinho gives Pepe instructions during the April 2011 draw with Barcelona
"At 5pm on 16 April 2011, shortly before Madrid's home league match against Barcelona, the newspaper Marca reported in its online edition that Madrid would play Pepe in midfield, along with Khedira and Alonso. The team selection was unprecedented: Casillas, Ramos, Albiol, Carvalho, Marcelo, Pepe, Khedira, Alonso, Di María, Ronaldo and Benzema.
"Mourinho waited for the team in the dressing room before issuing a torrent of accusations and insults that distorted his face until he began to sob loudly: 'You're traitors. I asked you not to speak with anyone about the team selection but you've betrayed me. It shows that you're not on my side. You're sons of bitches.
"'The only friend I have in this dressing room is [Esteban] Granero . . . and I'm not even sure that I can trust him any more. You've left me all on my own. You're the most treacherous squad I've had in my life. Nothing more than sons of bitches.'
"Casillas did not wait for the outburst to finish. He pretended that nothing was happening, turned around and went to the shower; he was not the only one who ignored the commotion. But Mourinho was filled with such intense emotion that he grabbed a can of Red Bull and hurled it against the wall. It exploded and drops of the sugary energy drink ran down the faces of those nearest to him."
"Squatting on the ground — some say he was kneeling — he rattled off a further series of insults, then, getting up, he wiped the tears from his face and announced that he was going to speak with Pérez [Real's president] and Sánchez [a director] because they would be able to find the mole. He promised reprisals and also made an analogy between martial law and football: 'If I'm in Vietnam and I see you laugh at a mate, I'd grab a gun with my own hands and kill you. Now it's you yourselves who have to look for the one that leaked the line-up.'"
Four days after the draw, Madrid defeated Barcelona 1-0 in the Copa del Rey final for Mourinho's first trophy as Real manager. Happiness was short-lived, though, as Mourinho suffered one of his bitterest defeats to Barça in the Champions League semi-final first leg.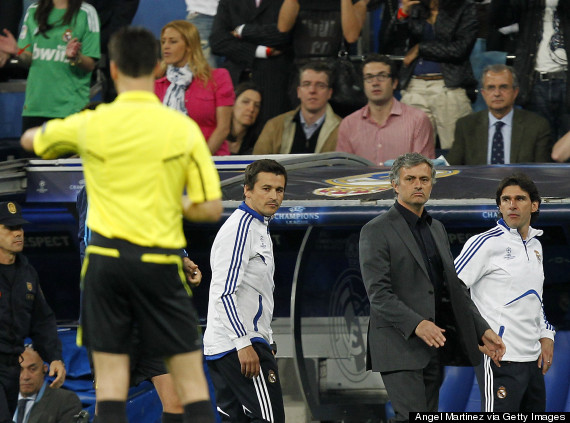 Mourinho was apoplectic Pepe received a straight red card for a foul on Dani Alves
Enraged by Pepe's harsh red card at 0-0, he was sent to the stands by referee Wolfgang Stark and Lionel Messi scored twice to give Barça an auspicious advantage ahead of the return tie. Mourinho labelled Stark's decision a "scandal" and claimed it was impossible for Madrid to progress because of the refereeing.
Ahead of the return leg, an embittered Mourinho summoned the players and supposedly instructed them to earn a credible draw, which would have sealed the club's elimination, so he could blame a Uefa refereeing conspiracy.
"The coach outlined his plan for the visit to the Camp Nou on Tuesday 3 May: 'We'll go out to play a calm game. To wait. We must defend very near the area with a low-block so the game ends 0–0. If it ends 0–0 we can say that the tie was decided by the referee in the first leg.'
"The players exchanged looks of disbelief.
"'At Barcelona we have three options: two impossible and one possible. The only possible option is that the game ends with a close result and we lose the tie. Of the two impossible choices, the first is that they thrash us. This must be avoided at all costs so we can blame the referees. The other impossible choice is to win the tie. If, in trying to preserve the 0–0 we end up going to the final by chance, then perfect. But the priority is to finish with a close score so that we can blame the referees. A 2–1, 1–0, a draw... this will be enough to say that we were robbed at the Bernabéu.'
"Mourinho tried to convince his team that they should lose the tie in a calculated way. He invited them to turn the game into a dialectical argument — this would provide him with a propaganda weapon that, with his rhetorical powers, he could then wield to devastating effect.
"Those who heard the speech and then reconstructed it described the situation as "incredible" and "amazing", but did not dare say anything at the time.
"The reaction of the players was mixed. Some tried to show that they had been moved. Pepe, Di María, Alonso and Granero seemed convinced, Granero saying approvingly, 'How clever...' There were also the sceptics and those who were indifferent, such as Adebayor, Carvalho, Lass and Khedira. A group remained that were outraged — Casillas, Ramos, Arbeloa, Higuaín and, above all, Ronaldo. They believed that Mourinho was prepared to chuck the tie out with the rubbish just so that he could justify 15 minutes of craziness in the press conference room at the Bernabéu."
Club captain Iker Casillas, who Mourinho demoted in his final season for Diego López, reportedly called a huddle at the back of the bus en route to Camp Nou and instructed the players to ignore Mourinho's instructions. "Everyone agreed".