Police are appealing for information about an attack on a couple in their Nottingham home.
The injuries sustained by the man, 64, and his wife, 63, are so brutal police opted to release a black and white image, deeming colour pictures "too graphic".
The couple were at home at around 8.30pm on 1 April when three masked men forced their way in.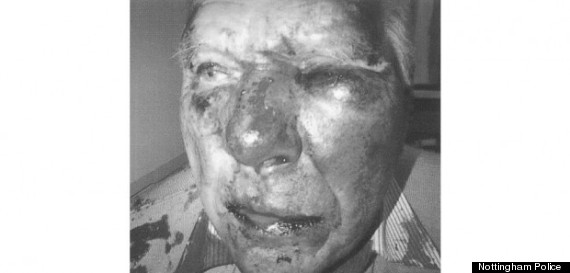 'What if it was your elderly parents or your grandparents?'
The man was punched and left with a suspected broken nose and cheekbone and a fractured hand. His wife was thrown to the ground.
He said: "We are getting CCTV and a fence around the house after what happened.
"People like this go for those who they see as vulnerable. What concerns me most is that if they hit someone in their 80s like they hit me they could quite easily kill them.
"What if it was your elderly parents or your grandparents? If you know who did this then please call police, so that it doesn't happen to anyone else."
Detective Inspector Rich Monk said: "We hope this picture might play on someone's conscience.
"This couple were going about their normal routine at home on a Tuesday evening when their peace was shattered by intruders.
"This man did what he could to protect his home and family, managing to throw a few punches himself. But one against three is no contest and he came off the worse for wear.
"I would appeal again to anyone who knows anything about this violent, unprovoked attack to call us.
"Did someone you know come home that night with bloodied clothes and cuts and bruises to their face? Are their injuries now healing but they are still reluctant to talk about how they got them?
"Suffice to say the offenders in this case left their victim nursing more serious wounds, ones he will continue to be afflicted by in the weeks and months to come.
"The psychological harm caused by such an intrusion may never go away."