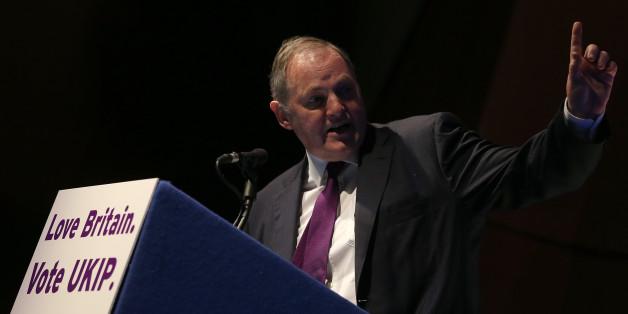 Matt Cardy via Getty Images
Ukip MEP William Dartmouth has denied that he stands to benefit financially from the construction of wind turbines on land in Yorkshire, claiming that the site is actually owned by his family.
The Ukip MEP was accused of "total hypocrisy" amid claims that he could make £60,000-a-year from three 300ft wind turbines being built on land he was linked to on Slaithwaite Moor near Huddersfield, even though Ukip is fiercely opposed to them as a party.
Questions were raised about Dartmouth's links to the Valley Wind Co-operative project after the MEP was named as a relevant tenant in the wind farm's planning application to Kirklees Council, suggesting that the turbines would be directly built on his land.
William Legge, who is better known as the Earl of Dartmouth, stated his opposition to new wind farms in his 2010 election leaflet and said that an "obsession with carbon emissions hinders sensible measures to protect our environment" like nuclear power.
If Dartmouth was found to be benefitting from the windfarm project, the revelation could be politically fatal. Professor Tim Congdon was forced to stand down as a Ukip parliamentary candidate after it emerged that he had signed wind-farm deals on his Scottish estates.
Dartmouth's name was included alongside Rosscroft Limited, which in 2012 put forward a planning application on behalf of the UKIP MEP for proposed repairs of a local reservoir.
Slaithwaite was historically part of the Dartmouth family's estate but Rosscroft is understood to now own the proposed wind farm site.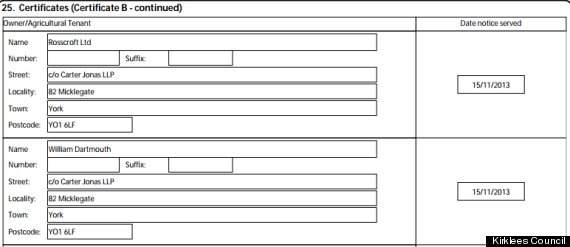 Dartmouth's exact links with Rosscroft are hard to discern as it is run by offshore directors based in the Bahamas and Monaco, the Autonomous Mind blog reported.
He claimed that his land was "erroneously included in the application" and that "this strip of land would not be involved in the wind turbine application in any shape or form."
A Kirklees Council spokesman confirmed to HuffPostUK that Dartmouth's inclusion, assuming it is still valid, as a Certificate B tenant would prove that his land "formed part of the planning application boundary" and would have made up "land necessary to implement the construction of turbines".
"The certificate would not be served on owners of land adjacent to the application boundary," the spokesman added.
A local opponent of the wind farm project reportedly sent Ukip leader Nigel Farage a letter in which he strongly criticized Dartmouth and accused him of benefitting financially.
"I...have to point out the total hypocrisy of your MEP William Legge who is touting his land out for a wind farm," he wrote.
"This land is protected moorland and 300 meters away from a National Trust Bird sanctuary. It is estimated he will receive £20k ground rent per 100m turbine (there are 3 currently planned) – i.e. £60k per year."
In a statement to the Huffington Post UK, Dartmouth confirmed: "I am not the applicant. I do not own the land in question.
"The land which is the subject of the planning application is owned by a relative. I derive no benefit, financial or otherwise, from the land as it stands, nor would I if the planning application were successful.
"An adjacent piece of land, which is owned by me, was erroneously included in the application.This strip of land would not be involved in the wind turbine application in any shape or form.
"As a UK Independence Party MEP I fully endorse the party policy to oppose onshore wind turbine development.
"The reason that the name Rosscroft Ltd appears on the above planning application, as well as in relation to land which I do own, is that they represent the entire extended Dartmouth family as well as many other clients.'