Scotland is on the "threshold" of becoming independent, the Deputy First Minister Nicola Sturgeon has declared.
She said that while there is "much work still to do" to achieve a Yes vote in September's referendum, the momentum behind the campaign is "simply unstoppable".
She told the SNP spring conference in Aberdeen that 80 years on from the foundation of the party, "the last mile of our journey to independence is upon us".
Voters in Scotland will decide if the country should remain in the UK or become an independent nation in a historic vote in just over five months.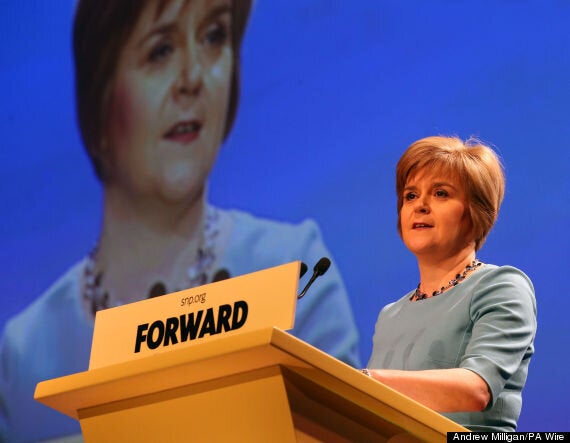 Deputy First Minister Nicola Sturgeon delivers her speech at the SNP Spring Conference in Aberdeen
The conference is the SNP's last before that crucial ballot, and Ms Sturgeon used her keynote speech to deliver a rallying cry to party activists.
She hailed the referendum as the "biggest and best opportunity we will ever have to build a better country".
She told the conference: "Here we are, standing at last on the threshold of our nation's independence."
Sturgeon, who is also deputy leader of the SNP, insisted: "The momentum is now clearly and firmly with Yes."
But she added: "We have much work still to do. Our job is to persuade our fellow Scots - with facts, with reason and with passion - what we know in our hearts and heads to be true.
"The best way, the only way, to build a wealthier Scotland, a fairer Scotland, and a more confident Scotland, is to equip ourselves with the full powers of independence."
She claimed a Yes vote in the referendum would not be "the end of the journey" but would instead mark "the beginning of a better future".
She continued: "Our positive movement for change is growing with every single day that passes and let me predict today that by the time we reach September, our momentum will be simply unstoppable."
The pro-UK parties of the "Westminster establishment" are fighting hard against independence, Ms Sturgeon added.
"There will be no scare, no threat, no smear that they will not deploy," she warned.
But she insisted those campaigning for a No vote are in "deep trouble".
Sturgeon said: "If I was a supporter of the Union, I would be in deep despair.
"Project Fear has not only failed to make a positive case for the Union, it has destroyed the very foundation on which that case might have been based.
"In their attempts to scare and threaten the Scottish people, the No campaign has torn apart the notion of the UK as an equal partnership."
Sturgeon also used her speech to make a direct appeal to Labour voters to vote Yes in the referendum.
She pointed to former Labour MP Dennis Canavan, who is now the chair of the pro-independence Yes Scotland campaign, and said Ian Newton - who served as election agent to Alistair Darling, the leader of the pro-UK Better Together campaign - is another who would be voting Yes come September.
"More and more Labour voters are voting Yes," Ms Sturgeon said.
But she told the conference: "There are still many people across our country who, despite its record, retain a loyalty to Labour and who believe that the answer to a Tory government is not independence, but another UK Labour government.
"I want to speak directly to them today. I ask them to look at the evidence.
"For half the time since the end of the Second World War we have been saddled with governments we did not vote for. Even when Scotland votes Labour, there is no guarantee that we end up with a Labour government at Westminster. That decision is made by others. It is out of our hands.
"And all too often even when there is a UK Labour government, it is the priorities of Westminster, not of Scotland, which prevail."
She urged Labour supporters to vote Yes to "reclaim" their party.
Sturgeon's message to Labour voters was: "The Yes campaign is not asking you to leave your party. Instead, it offers you the chance to get your party back - a Labour Party free to make its own decisions, no longer dancing to a Westminster tune.
"For everyone out there with Labour in your heart, the message is clear. Don't vote No to stop the SNP. Vote Yes to reclaim the Labour Party."