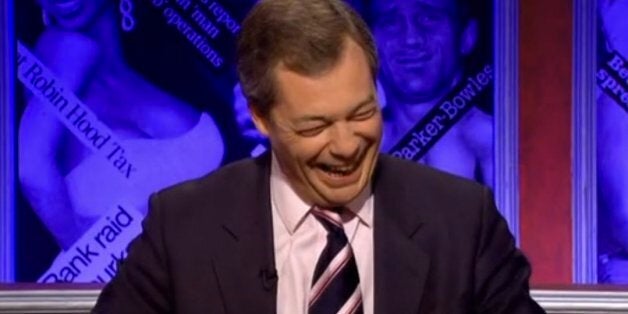 Nigel Farage appeared on Have I Got News For You Friday Night, and, rather predictably, the panel were quick to tear into the Ukip leader.
Farage featured on Paul Merton's team for the episode of the much-loved show, hosted by actor and comedian Stephen Mangan.
His fellow guests didn't just pick up on the right-wing politicians expenses scandal – or his affair allegations – oh no, Farage also had to tensely grin through being called "swivel-eyed" by Ian Hislop and play a jovial game of "fruitcake or loony?"
To clarify, Farage was forced to categorise various Ukip members as either a "fruitcake" or "loony" – a tricky task.
Farage also faced catcalls by the studio audience after host Mangan reminded them: "Nigel Farage. The same Nigel Farage who in 2009 revealed that as an MEP he'd claimed in expenses £2million of taxpayers' money."
Many viewers took to Twitter to voice their own thoughts on the politician's appearance:
One Twitter user compared the appearance form the politician to the following scene from Harry Enfield's 'Norman Ormal':