A Ukrainian has been killed and five pro-Russian activists wounded as security forces exchanged gunfire with separatists in an operation to clear them from a police headquarters in Slaviansk, the country's interior minister has said.
"There were dead and wounded on both sides," Arsen Avakov said on his Facebook page, according to the Reuters news agency.
The battle is the the first in east Ukraine, where pro-Russian militia have seized government buildings in the last few days, the Associated Press reported. Pro-Russian militia men have taken over a police station in the town
A Reuters reporter in Sloviansk said two military helicopters were flying over the town's police headquarters on Sunday, where the militants were holed up. However an AP reporter did not witness any violence on the ground in the town.
David Stern, a BBC correspondent in Donetsk, said "large parts of eastern Ukraine are slipping out of Kiev's control.
"More and more police stations and government buildings are falling to unidentified gunmen, who carry Russian weapons and look very much like the Kremlin forces who took Crimea."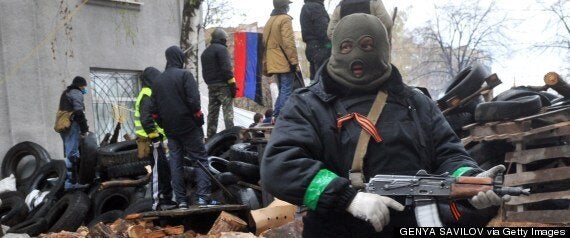 Barricades have been erected by pro-Russian separatists
Ukraine has accused Russian of trying to exacerbate violence in the country, in an effort to undermine presidential elections due on May 25.
But Moscow has warned it will protect the region's Russian-speakers if they come under attack.
US vice president Joe Biden is due to travel to Kiev, Ukraine's capital, in a week on 22 April. He will be the most senior official to visit the country since the crisis began nearly five months ago.
The White House has also raised concern that the latest seizures by pro-Russian separatists could be a prelude to an incursion by Moscow forces.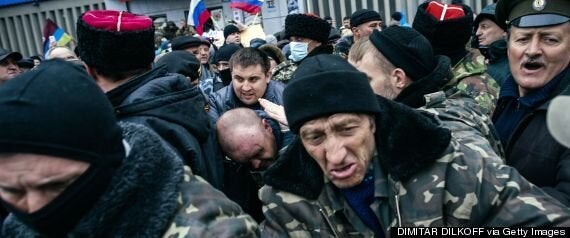 Pro-Russian activists surround a man in eastern Ukraine
"We call on President Putin and his government to cease all efforts to destabilise Ukraine, and we caution against further military intervention," Laura Lucas Magnuson, spokeswoman for the White House National Security Council, said.
Meanwhile John Kerry, the US Secretary of State, has spoken to his Russian counterpart Sergei Lavrov, over the attacks by armed militants in eastern Ukraine.
However Lavrov has blamed the crisis on the failure of the Ukrainian government "to take into account the legitimate needs and interests of the Russian and Russian-speaking population," the AP reported.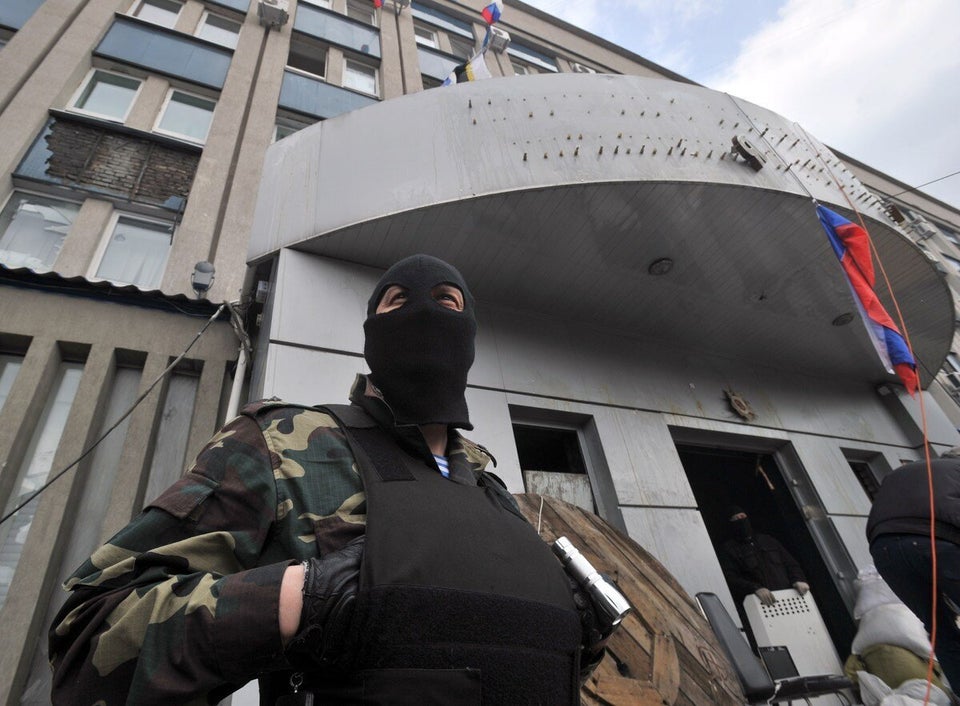 Trouble In Ukraine's East