A mysterious man in bubble-wrap was spotted on the London Underground today, who seemed to be the spitting image of Prime Minister David Cameron.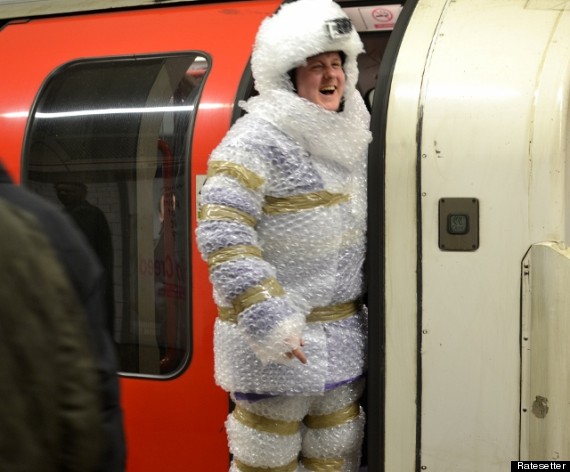 The man went around London swaddled in bubble wrap officially to promote a new "100% Fund" from the peer-to-peer lender Ratesetter, which aims to help savers by protecting them against borrowers defaulting.
But many people thought the Prime Minister was just in disguise.
How did David Cameron think he could get away with walking around London in disguise? RT @asabenn pic.twitter.com/MjpDFQJaut

— Hannah Perlin (@HannahPerlin) April 16, 2014
Looks like David Cameron RT @asabenn Here's a man in bubble wrap going about London. pic.twitter.com/x3Gzp2EjHN

— Tahira Mirza (@tahiramirza1) April 16, 2014
Asked if Ratesetter had secretly got the Prime Minister himself to get involved, one of the Ratesetter team quipped: "He gave us the best price!"
@asabenn @RateSetter He gave us the best price!

— James Tall (@JTall99) April 16, 2014
See also: The Real David Cameron looking daft