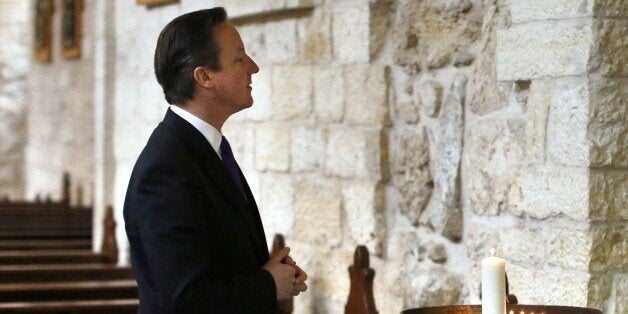 Britain should be "more confident about our status as a Christian country", David Cameron said.
The prime minister insisted that being a Christian country did not mean "doing down" other religions or "passing judgment" on those with no faith at all.
The government has come under attack from senior clergy over its welfare reforms, but Cameron said "we all believe in many of the same principles" and churches were "vital partners".
In an article for the Church Times Cameron described himself as a "classic" member of the Church of England, "not that regular in attendance, and a bit vague on some of the more difficult parts of the faith".
He rejected the idea that in an "ever more secular age" people should not talk about their religion.
"I believe we should be more confident about our status as a Christian country, more ambitious about expanding the role of faith-based organisations, and, frankly, more evangelical about a faith that compels us to get out there and make a difference to people's lives," he said.
"First, being more confident about our status as a Christian country does not somehow involve doing down other faiths or passing judgment on those with no faith at all.
"Many people tell me it is easier to be Jewish or Muslim in Britain than in a secular country precisely because the tolerance that Christianity demands of our society provides greater space for other religious faiths, too.
"Crucially, the Christian values of responsibility, hard work, charity, compassion, humility, and love are shared by people of every faith and none - and we should be confident in standing up to defend them.
"People who, instead, advocate some sort of secular neutrality fail to grasp the consequences of that neutrality, or the role that faith can play in helping people to have a moral code. Of course, faith is neither necessary nor sufficient for morality.
"Many atheists and agnostics live by a moral code - and there are Christians who don't. But for people who do have a faith, that faith can be a guide or a helpful prod in the right direction - and, whether inspired by faith or not, that direction or moral code matters."
Cameron said he had "felt at first hand the healing power of the Church's pastoral care" and Christians "know how powerful faith can be in the toughest of times".
Earlier this year the Government came under attack from 27 Anglican bishops who warned that thousands of people were being forced to rely on hand-outs from food banks as a result of the coalition's benefit changes.
The leader of the Roman Catholic Church in England and Wales Cardinal Vincent Nichols has also said it was a "disgrace" that in such a wealthy country there were people who could not afford to feed themselves.
Cameron acknowledged that welfare was "controversial" but added: "I sometimes feel not enough is made of our efforts to tackle poverty. Of course, we have been through some tough economic times in turning our country around over the past few years.
"But it is through the dignity of work, the reforms to welfare that make work pay, and our efforts to deliver the best schools and skills for young people, that our long-term economic plan can best help people to a more secure future. And that is why today there are 1.6 million new private-sector jobs, unemployment is at its lowest level in half a decade, and there are more than 500,000 fewer people on out-of-work benefits."
So, I hope that, even when people disagree with specific policies, they can share in the belief of trying to lift people up rather than count people out. I welcome the debate with church leaders and faith communities about some of these issues, because in the end I think we all believe in many of the same principles.
"Whether it is the support people want to give their families, or the determination not to write anyone off, I believe these values and ideals are really important to all of us."
The Prime Minister, who has faced criticism from within his own party over the Government's commitment to spend 0.7% of gross national income on overseas aid, said the policy should be a "source of national pride".
The article is the latest demonstration of Cameron's religious faith.
Tony Blair's former spin doctor Alastair Campbell famously held that prime ministers should not "do God", but Cameron has been less reluctant to speak about his beliefs.
At an Easter reception in Downing Street earlier this month he told an audience of Christian leaders and politicians in Downing Street that his "moments of greatest peace" occurred every other Thursday morning attending the Eucharist at St Mary Abbots, the west London church linked to the school his children attend.
"I find a little bit of peace and hopefully a bit of guidance," he added. In a reference to his efforts to encourage community volunteering, Bloomberg reported that Mr Cameron said: "Jesus invented the Big Society 2,000 years ago; I just want to see more of it."