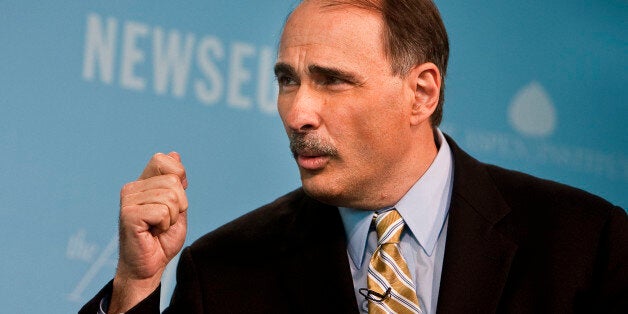 Ed Miliband has hired former Obama chief campaign strategist David Axelrod to help him win the next general election.
Axelrod, who helped pilot Obama to the White House in 2008 and again in 2012 will serve as a senior strategic adviser to the Labour leader, the party revealed on Thursday evening. Labour said the campaign guru would be an integral part of the 2015 election team and participate in regular strategic discussions.
On May 14 Axelrod is due in London for two days of strategy meetings with Miliband, deputy Labour leader Harriet Harman and other senior shadow cabinet members. Axelrod said that in several conversations with Miliband over the course of the last year he had been struck by the "power of his ideas" and "the strength of his vision".
"He understands that a growing economy demands that you have to have broad prosperity. We can't just have prosperity hoarded by a few where people at the top are getting wealthier and wealthier but people in the middle are getting squeezed," he said.
And in what will be music to Labour's ears, Axelrod draw a direct comparison between Obama and Miliband. "Ed Miliband has a real vision of where we need to go to solve those problems. He has answers to these questions which will be very potent in the next election," he said.
"That is how we won in the US. Barack Obama articulated a vision which had, at its core, the experience of everyday people. And everyday people responded, they organised and they overcame the odds. I see the same thing happening in Britain."
The job with Labour puts Axelrod in direct competition with his Obama campaign colleague Jim Messina. Messina, who ran Obama's 2012 campaign, recently agreed to help David Cameron win re-election. The move was a controversial one given the Conservative Party's transatlantic ties with the Republican Party.
Many of Messina's former campaign operatives were reluctant to criticise Messina at the time. Stephanie Cutter, who served as Obama's deputy campaign manager in 2012, told The Huffington Post UK at the time it was up to Messina who he worked for. But she hinted that US Democratic operatives did not think the British Conservatives should be the only ones to benefit from the Obama campaign team. "There is a lot the Tories are trying to learn about what we did in 2012. And that shouldn't be proprietary information to just the Tories," she said. With Axelrod onboard, Labour will be the beneficiaries as well.
Axelrod is also not the first hire Miliband has made from the Obama campaign machine. Last year he brought in digital campaign specialist Matthew McGregor. The Briton worked on Obama's election campaign as part of its online rapid response unit.
Miliband said Axelrod's hiring was "excellent news" and that he would be "a huge asset to our campaign as we work to show the British people how we can change our country for the better"
Other figures from the political consulting firm founded by Axelrod, AKPD, will also now help - including Obama campaign veterans Larry Grisolano and Mike Donilon.
Douglas Alexander has claimed credit for securing Axelrod's services, with the appointment being portrayed as the culmination of several months' effort by the shadow foreign secretary and campaign coordinator. "This announcement is great news for Labour - and seriously bad news for the Conservatives," he said.
In 2010, at the height of the Labour leadership campaign, Axelrod met with former prime minister Gordon Brown adviser David Muir in the White House. The election was a close fought race between Ed Miliband and his brother David. As Ed Miliband biographer - and HuffPost UK political director - Mehdi Hasan reported, Axelrod had expected David Miliband to win. Muir told Axelrod that he believed Ed would win as he had "so much more capacity to improve" than David did. "It's just like Obama when he ran against Hillary," Obama's adviser was told.
Labour has consistently lead the Conservatives in the polls. However a narrowing of that lead with one year to go until the election has made some Labour MPs jittery. A YouGov poll for The Sun published on Thursday evening found the Labour was just two points ahead with 35% compared to the Conservatives on 33%. Miliband will hope Axelrod's hiring will calm backbench nerves.